Wildfire Damage Restoration Services
Has Your Property Been Affected by a Wildfire?
When disaster strikes, you need to know that your property is in the best hands. AdvantaClean has a dedicated team of fire damage restoration professionals with the knowledge and experience to take care of your property and provide you with peace of mind following a wildfire. We can take care of all aspects of your fire loss to clean up and restore your property as quickly as possible following a wildfire.
It is highly recommended that you trust the cleanup and restoration of your property to a professional team. It can be incredibly difficult to remove smoke, soot, and odors without the proper equipment, training, and expertise, and the damage can get worse if soot and smoke residues remain for too long. Call the team at AdvantaClean now if you are in need of fire damage restoration help.
Our Wildfire Damage Restoration Services:
Emergency Board-Up
Smoke and Soot Removal
Odor Removal
Fire Damage Cleanup
Water Damage Restoration
And More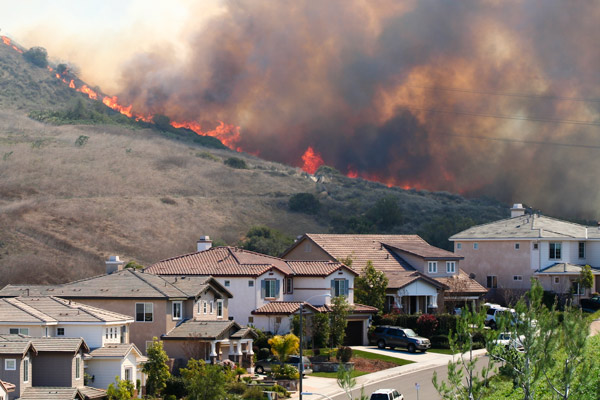 When you call, we will assess the damage, take immediate steps to mitigate the damage and develop a plan to completely restore your property. With 25+ years of industry-leading experience, you can trust our team to take care of you and your home.
The damaging effects of wildfires are often far-reaching. In areas impacted by wildfires, flames, intense heat, and smoke can cause damage to your property and professional help may be needed to clean up and restore your property back to normal.
Smoke & Soot Damage
Wildfires can create giant clouds of smoke, coating the outside of your property with soot and filling your home with smoke odors. Smoke can travel through air ducts, enter cavities in your walls and ceilings through wiring, and coat every surface it comes into contact with, leaving behind a pungent odor. Soot residues occur in the vicinity of the fire, and are often sticky, greasy, and can smear if you simply try to wipe it away.
Removing smoke and soot residue requires specialized equipment and technologies. At AdvantaClean, we utilize the most effective methods and technologies to treat and remove smoke odors and remove soot residues after a fire. Our trained and experienced technicians know how to best handle the different types of smoke and soot residues to ensure complete removal. Contact us today.
Because wildfires are catastrophic events that impact your entire community, it's important to get help as soon as possible to minimize any ongoing damage from exposure or acidic smoke residues. Whether you have direct damage from the heat and flames or secondary damage due to smoke or firefighting efforts, AdvantaClean can help you restore your property and your peace of mind. We are on call 24/7 and ready to help now.
Call (877) 800-2382 Today!
Breathe easier with help from our licensed professionals.
Air Duct Cleaning, Mold Remediation & Water Damage Repair Services
Schedule Now
or Call Now (877) 800-2382
See How AdvantaClean Can Help