Extreme Makeover : Home Edition Fifita Family Features AdvantaClean and Home Franchise Concepts
AdvantaClean®, parent company Home Franchise Concepts (HFC), and sister brands Budget Blinds®, Concrete Craft®, and Tailored Closet® recently participated with HGTV's Extreme Makeover: Home Edition for the extreme makeover of the Fifita family home in Hawthorne, California. The makeover transformed the entire home, including almost doubling the square footage, from 887 to 1,600+ sq. ft., and converting the large, under-used backyard into functional outdoor living space.
AdvantaClean stepped up to ensure the new home will remain safe from allergens and poor air quality with regular air duct cleaning for healthy living
Extreme Makeover: Home Edition transforms lives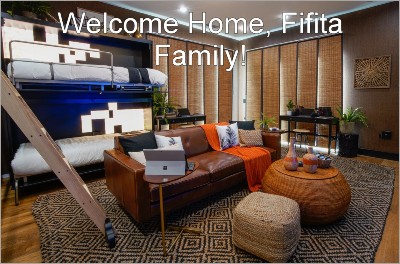 The 2020 relaunch of the iconic Extreme Makeover: Home Edition TV series continues transforming lives with home renovations for deserving families who selflessly give back to their communities and now can use a helping hand themselves. New show host, Jesse Tyler Ferguson (Modern Family), is joined by a dynamic design team, including designers Breegan Jane and Carrie Locklyn, and carpenter Darren Keefe to personalize every facet of the renovations. "The first thing we look at is what they need. To aid the lives of these hometown heroes and to help their families, not to mention their contribution toward their communities is our primary objective." –Carrie Locklyn
The moment the Fifita family eagerly awaited … Move. That. Bus!
For the Fifita family, this meant some amazing changes:
Expand the kitchen and integrate with the dining area and living room in an open floor plan.
Convert the master bedroom to a master suite.
Add a second bathroom and third bedroom to bring the son's garage room under the same roof as the rest of the family.
This is the house that love built
Brian and Lisa Fifita have lived in their home for 17 years, and are parents to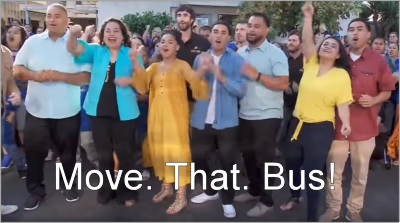 five children, two currently living at home along with innumerable "heart" children that they welcome into their home. Living in a neighborhood where gang violence is a threat, the Fifitas have made their home a haven for local kids to have a safe place to hang out, eat, do homework, play basketball, and spend the night if need be. Having lost a nephew to random gang violence, Brian says he doesn't ever want another family to have to go through that. Hospitality is a big part of their Tongan, Polynesian culture so their doors are always open. That's why their niece, Kina, nominated them for the show, their incredible generosity: "They'll be uncomfortable so everyone else can be comfortable." Show host Jesse succinctly summed up the major problem: "The house is too small for the amount of love you want to give."
AdvantaClean and Home Franchise Concepts step up in a big way
For AdvantaClean and its sister brands, participating in the home renovation was a labor of love. It was exciting to be part of such a life-changing event with Home Office associates, service technicians, installers, and our vendor partners contributing time, product, and expertise to help make the home "A dream come true for our family." –Brian Fifita
AdvantaClean donated two years of air duct cleaning to ensure home safety by enhancing air quality by reducing dust and indoor contaminates. Additionally, the regular cleaning will improve the HVAC system's efficiency, lowering monthly energy bills.
Tailored Closet installed custom closet storage systems in the master bedroom and in daughter Nancy's room, as well as two Murphy Beds and a built-in entertainment center in the new bedroom that brought son, Salesi, from his garage room into the house.
Throughout the home, custom shades and drapery from Budget Blinds brought beauty and style and complete light and privacy control to every room with motorized window coverings.
Concrete Craft helped to convert the huge backyard to functional living space with decorative concrete resurfacing that repaired the driveway/courtyard and the much-loved basketball court.
View before-and-after photos of the complete Fifita home makeover: Creating a Safe Gathering Space Within a Polynesian-Inspired Home
AdvantaClean's commitment to quality service will ensure the Fifita's can breathe easier in their new home for years to come
Move. That. Bus!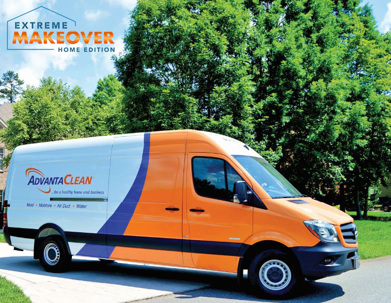 The family was moved out while all the work was underway and only returned when the house was complete and hidden behind the Extreme Makeover: Home Edition bus, awaiting the "Move. That. Bus!" moment when the family finally sees their new home. For the Fifitas, the magic just went on and on from the first glimpse of the front yard to the backyard makeover with a faux stone flagstone decorative concrete driveway, courtyard, resurfaced basketball court, patio area, and a new shaded pergola for outside dining and relaxing. Jonathan Thiessen, HFC's Chief Development Officer, made a special presentation to the family: "We have a program at Home Franchise Concepts called Heart & Home and it's designed to give back to those that do great things and give back in their community. So, on behalf of HFC, we would like to give you $25,000 to continue with that."
The new backyard was the perfect place for the celebration party for all the friends, neighbors, and volunteers, with a special presentation from HFC
There are far too many memorable moments and quotes to share them all, but here are a few highlights:
Actor Anthony Anderson came by to help: "I grew up not too far from here and what you're doing, taking people into your home and providing a safe haven for them, I just have to thank you and that's why I'm here."
Ty Pennington, original Extreme Makeover host, crawled under the house for Breegan to check sewer lines that could have impacted the pergola. All good!
The master bath was a big hit. "This is the best part of the house!" according to Brian, and Lisa is all smiles, "This is our bathroom; we don't have to share with the kids!
Jesse recognized the magnitude of this home makeover, "We're not just helping the family, we're helping all the people they open up their home to."
Improve your home's air quality and safety
AdvantaClean is ready to assist you with making your home safer for your family by reducing allergens and contaminants that can result from moisture, mold, and bacteria, producing poor air quality. For complete peace of mind, call 877-800-2382 today to schedule an appointment with our NADCA Certified Indoor Air Quality Professionals.
Catch new episodes of Extreme Makeover: Home Edition Sunday night at 8p|7c on HGTV.