Air Duct and Coil Cleaning
How Clean Are Your Air Ducts?
Air ducts are the passages for your heating, ventilation and air conditioning (HVAC) system. They are the pathways where heated or cooled air travel throughout a home. Air duct cleaning is the process of removing dust and contaminants that accumulate over time from your air ductwork. Air ducts are like the circulatory system of your home, which is why air duct cleaning is so important!
Since ductwork is often located out of sight behind walls or above ceilings, maintenance like cleaning of air ducts can be easy to neglect. Many people forget to have routine air duct cleaning performed, which has the potential to cause long term problems with indoor air quality.
The National Air Duct Cleaners Association (NADCA) advises cleaning of air ducts every 4-7 years.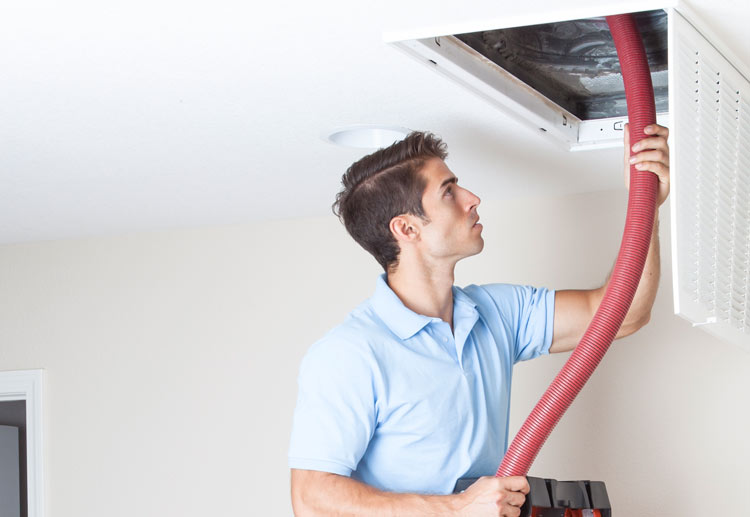 How Efficient Are Your Coils?
Well maintained coils can last up to 15 years! Keeping an air conditioning unit well maintained increases the life and efficiency of the heating and air conditioning unit. That's why air conditioner coil cleaning should be near the top of every building's maintenance list.
Leaks, noises, diminished airflow and damaged wiring are some of the signs of a poorly maintained home AC system.
As air moves over the air conditioner coils, contaminants such as dirt, dust, mold spores, moisture and pollen collect. When this happens, the air conditioning coils become a breeding ground for bacteria and mold, threatening indoor air quality. If air conditioner coil cleaning is not performed, buildup on the air conditioning coils also creates an insulating effect, preventing the coil from absorbing heat and reducing airflow, resulting in greater energy consumption.
Call AdvantaClean for Clean Air Ducts and Efficient Coils
AdvantaClean is the premier provider of duct cleaning. Our professional technicians perform thorough cleanings, eliminating contaminants, like dust, mold and bacteria. Duct cleaning also helps prevent excessive home dust and allergies by removing irritants from your ductwork.
According to NADCA, up to 40 pounds of dust is created annually, through everyday living alone! Your HVAC system recirculates air five to seven times a day, so dust in the home and other air pollutants are pulled into your air ducts, attaches to the walls and builds up over time. Cleaning your air ducts help maintain healthy indoor air quality in your home.
When the air conditioning coils become contaminated, the system has to work harder, using more energy to transfer heat. According to the US Department of Energy (DOE), the "HVAC system accounts for 40 to 60 percent of the energy used in US commercial and residential buildings." Add in the fact that an air conditioning unit with dirty coils can use from 30 to 37 percent more energy than a unit with clean coils! The case is clear: ensuring your HVAC system is maintained and functioning properly will save you both energy and money.
Signs that you should call AdvantaClean for air duct cleaning include:
Needing to sweep and dust more than usual.
Experiencing higher than normal utility bills – clean air ducts can improve your system's efficiency.
Allergy signs appeared after air starts to flow? Clean air ducts can remove particulates such as mold and dust, which are known triggers.
Rooms in your home have little or no airflow coming from the air conditioning vents – air ducts will help restore airflow throughout your ventilation system.
What is Duct Cleaning?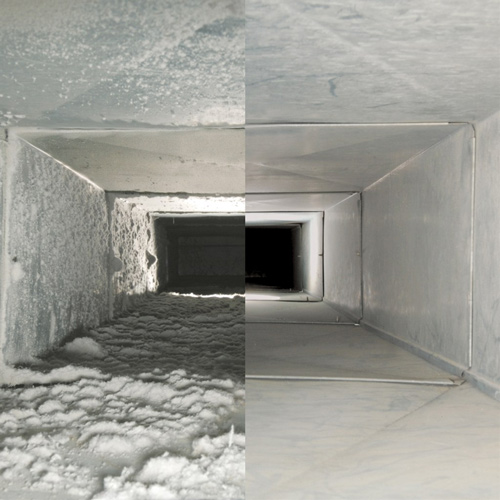 Air duct cleaning is the process of eliminating dust, mold and other contaminants from your heating and air conditioning system ductwork.
According to the EPA, "Air duct cleaning generally refers to the cleaning of various heating and cooling system components of forced air systems, including the supply and return air ducts and registers, grilles and diffusers, heat exchangers heating and cooling coils, condensate drain pans (drip pans), fan motor and fan housing, and the air handling unit housing."
Indoor air pollution has been identified as a top environmental health risk in the US and air duct cleaning has shown to greatly reduce indoor air contaminants, making your home a healthier place to live.
How to Clean Air Ducts (According to NADCA Standards)
AdvantaClean follows the rigorous standards set forth by the National Air Duct Cleaners Association (NADCA) when performing air duct cleaning.
Our courteous and professionally trained air duct cleaning technicians use the following process:
Our crews will show up at your home on time, in an AdvantaClean branded vehicle.
Our technicians will greet you and carefully review the services you have requested, explaining our air duct cleaning process in detail.
Your home will be prepared for air duct cleaning, ensuring that all vents and returns are accessible, and placing protective flooring covers and corner guards where necessary.
Our technicians will carefully seal your vents and returns before the duct cleaning begins, and put your air conditioning ducts under negative pressure to maximize airflow.
We will connect a powerful vacuum device to your main trunk line, which will collect dirt, dust, mold and other contaminants that will be dislodged during the air duct cleaning.
High pressured compressed air whips will be inserted into the ductwork to dislodge the dirt and debris, which will be collected in the containment unit.
After the duct cleaning process is complete, we will seal the access hole in your main trunk line with a metal access panel, according to NADCA standards.
Our technician will review your air duct cleaning project with you to ensure your satisfaction and answer any questions you may have.
Can I Clean Air Ducts Myself?
Properly cleaning your home air duct is trickier than it seems. First, you'll need to acquire specially designed vacuums, brushes, fans and furnace filters. The NADCA guidelines and recommendations for specific tasks, like cleaning areas "contaminated with an accumulation of particulate" or the ones "determined to be at risk for fire hazard" will change drastically. Therefore, we do not recommend cleaning your air duct yourself, unless you have industry certifications.
Call AdvantaClean for Clean Air Ducts Today!
Is Your Home Making You Sick?
Create a healthy environment for your family. Request your service appointment today!
Schedule Now
or Call Now (877) 800-2382
See How AdvantaClean Can Help