Hidden Leaks in Your Home
You're good about checking the places you see every day for leaks — but what about the nooks and crannies that you don't always notice during your busy life? Here are some places where you might find some hidden leaks in your home, some tips to prevent them from happening if you don't find them, and some recommended actions if you do.
1. Check your water meter.
If your water bill has been suspiciously high lately, and you can't remember taking super-long showers or running an unusually high number of laundry loads, then turn off all the water in your home and make sure you've checked every appliance and faucet that could possibly be using water to ensure that it's not using any water. Then take a look at your water meter. Wait 30-60 minutes and if the meter reading has increased, then we hate to be the bearer of bad tidings, but you probably have a leak somewhere in your
home.
2. Conduct a thorough inspection of all your water systems.
Now that you've identified that you have a problem, it's time to go into detective mode. Slow yourself down and work your way back past every place where water could be leaking, including your sinks, faucets and drain pipes — yes, that means you'll need to look under your cabinets where you've been stashing all kinds of things for who knows how long — as well as your clothes washer and hot water heater, and especially your toilets. If you have a water softener system or other water treatment components like a UV system to eliminate bacteria, you'll also want to check the visible portions of pipe for signs of moisture. Extend your investigation to the exterior of your home by checking all outdoor spigots, which could be leaking, especially in the winter when a section of your pipe may have burst.
3. Still no sign of a leak? Time to go "Sherlock Holmes."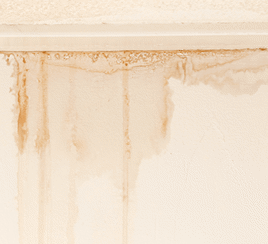 If you haven't discovered the leak by this point, you may not need to find a magnifying glass, but you'll definitely need to turn up your observing skills a notch for this phase of the inspection. Now it's time to look across every surface in your home to see if there are any spots where mold or discoloration from water damage have left evidence of a leak. This might come in the form of paint that's bulging or flaking, a funny-colored spot on your ceiling, wall or other surface, or any other visual clue. You can also follow your nose in this part of the investigation, and if your schnoz isn't the most keen, then find that family member or friend with the super-sniffer and ask them to see if they can smell their way to the source of a potential issue. Mold can sometimes manifest itself first by a musty stench before it appears visually.
Call AdvantaClean for 24/7 Water Restoration
Is Your Home Vulnerable?
93% of water damage can be prevented, request a service appointment today!
Schedule Me
4. Call for help!
If you've done everything you can to find the source of a hidden leak, but you're just not having any luck, then it might be time to contact a professional water damage service provider like AdvantaClean for some help in locating the problem. Even if you've found the leak, it's probably best to consult with a professional water damage restoration company for a moisture control solution that will provide you with the fastest, most affordable and most effective water removal and moisture mitigation plan. Just make sure you hire a company with a stellar reputation for timely and quality service, and ask them if they're certified by the Institute of Inspection Cleaning and Restoration Certification (IICRC) because that's the hallmark of a business that truly knows what it's doing when it comes to your property.
You don't want to trust just anyone with the place where you live — so why not give us a call today here at AdvantaClean? We've got highly-trained, committed water damage response teams standing by to serve you right away. Our locally-owned franchises are staffed by your neighbors who hold themselves to the same standards of service and value we expect for our own families and homes. Since 1994, AdvantaClean has been giving homeowners like you the peace of mind that you deserve when it comes to finding and fixing your hidden leaks and every other moisture control issue that you may be facing as a homeowner. From the smallest flood cleanup to the nastiest sewer cleanup, we've got the training, the equipment and the record to prove that we're the best in the business. That's why we like to say that it's not clean until it's AdvantaClean!

More info? For more information on protecting your home from water damage, read: DO YOU KNOW THE SIGNS OF WATER DAMAGE
Call 877-800-2382 to schedule an appointment with an AdvantaClean Water Restoration Specialist today!