Small Leaks, Big Problems
So you found a little puddle of water in an unexpected place inside, or maybe you saw some dripping from a gutter away from the downspout outside. No big deal, right? Maybe — but are you willing to risk long-term water damage because you thought small leaks can't cause big problems? Water damage can start small but end up creating huge headaches if they aren't identified and dealt with properly. Let us show you why it's always important to investigate every little leak you find in your home or office, and why you should be looking for them even when things are dry. Here are some common places where small leaks can go unnoticed, and what we recommend you do if you find one.
1. Under your sinks. This may seem obvious, but how often are you really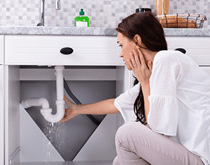 looking into the cabinets under your kitchen and bathroom sinks? We're not talking about just peeking in there to grab something — we mean actually pulling everything out of the cabinet to check for any water on the outside of your pipes or soft, wet spots on the cabinet surfaces themselves. Conducting a routine inspection like this could save you hundreds or even thousands of dollars in water damage restoration or mold remediation costs! If water is left to puddle and degrade the wood or other surfaces around it, eventually the entire area could need to be replaced because of rotting and mold damage.
2. In your basement and crawl space. Another no-brainer, right? But once again, we're challenging you to really look in the corner where your sump pump is located. Is it functional, and do you have a battery-operated backup system in place if your power should fail during a flooding emergency? You'll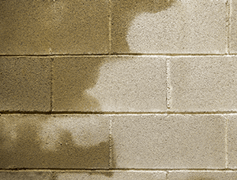 also want to be checking for small leaks in the areas directly beneath upstairs plumbing fixtures like your toilets, sinks and showers. If you don't have a finished basement, this will be easier than if you have ceilings — but regardless, be on the lookout for any discolorations in the ceiling surfaces and walls of your basement. A small crack in your foundation wall can allow water to seep in and over time, especially in the winter as it freezes and thaws, it will create bigger gaps that can lead to much worse water damage. Another serious, costly and even potentially deadly problem these cracks can speed up in your home is radon contamination.
Call AdvantaClean for 24/7 Water Restoration
Is Your Home Vulnerable?
93% of water damage can be prevented, request a service appointment today!
Schedule Me
3. Your toilets and showers. "Well, duh," you're maybe saying by this point — but ironically, it's these fixtures which we use the most that are sometimes most-often missed areas where small leaks are working their way towards bigger water damage problems. Your shower's caulk is essential for keeping water headed where it should go: down the drain. So do a good inspection with your eyes and your hands to make sure that the caulk lines are water-tight and there aren't any gaps. Even a few drops of water a day can develop into all sorts of water damage and mold infestations if they're allowed to fester for long enough. Your toilet is another area where your mind probably isn't on water leaks when you're using it, so when you're doing routine cleaning around the base of the toilet, make sure to inspect for any evidence of a small leak, which could even come in the form of discoloration of the grout in the tile, or possibly even a slight upward bulge in the floor where the toilet sits. If water has been leaking into your sub-floor, it could be expanding the wood and creating a little mound.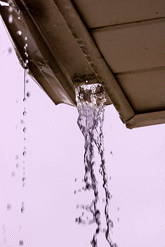 4. Walk around your house. A quick routine inspection of your gutters and downspouts, as well as any spigots outside, can help you avoid major water damage to your foundation. Look up at the roof, too — if you see any suspicious spots, then you'll want to get an air mask, some gloves and a set of protective eyewear to venture into your attic to inspect any little leaks. Your proactive approach to preventative maintenance may result in a short-term repair bill, but think about all the money you'll be saving from long-term repairs. It's worth it!
5. For water damage and moisture control, choose AdvantaClean. Since 1994, our franchisees have been providing superior service and results to Americans from coast to coast. Our water removal technicians are certified by the Institute for Inspection, Cleaning and Restoration Certification (IICRC) so you'll know you're getting the very best water damage restoration for any flood cleanup situation, or even a sewer cleanup. But don't take our word for it! Read our reviews, and then reach out to us today. We're standing by to serve you now, and we're excited to show you firsthand why it's not really clean until it's AdvantaClean!
More info? For more information on water damage in your home, read: DO YOU KNOW THE SIGNS OF WATER DAMAGE