How Do I Choose Which Water Damage Company to Use?
Owning a home is a dream come true, but it can also turn into a nightmare fast when an unexpected maintenance or repair issue comes up. One of the most stressful problems can be a flood cleanup, whether it's a small leak that you just found and you're worried it could be leading to mold problems, or it's a worst-case sewer cleanup. Before you let the "what-if's" get the better of you, take a few minutes to read this guide on how to choose which water damage company to use. As bad as your flooding might be, you don't want to make it worse by picking the wrong service provider because then you'll be starting all over again to have someone else fix whatever the first company did wrong. Below are some of the most important factors you should be taking into consideration in this important decision in the life of your home.
1. How long has this company been around? Of course, every business has to start somewhere, but we're talking about your home here, and you need to ask yourself if you're willing to risk hiring someone that isn't well-established in the area as a reputable service provider. Word-of-mouth can help you save money if you happen to know someone who knows someone who has experience in doing things the right way, but water damage restoration is such a detail-oriented kind of repair that you really should err on the side of experience.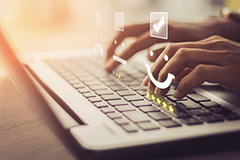 2. Is this company properly bonded and insured? This kind of goes along with item #1 above, but make sure you're doing research into a given water damage restoration business, check its "bona fides" online, including its rating with the Better Business Bureau. If it's not even registered with the BBB, that could be a sign that the company isn't worthy of your hard-earned dollars and the sacred trust involved with repairing the place you live.
3.What are other people like you saying about this company? Once again, a little extra time doing some due diligence with reading online reviews can make a world of difference when it comes to this major decision about how to fix the water damage that is threatening your home's safety and property value. Make sure you visit some third-party sites to get independent reviews of the company.
Call AdvantaClean for 24/7 Water Restoration
Is Your Home Vulnerable?
93% of water damage can be prevented, request a service appointment today!
Schedule Me
4. How quickly can they get you into their schedule? Even a great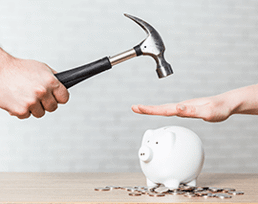 company has to be available fast for something as time-sensitive as water removal and water damage restoration. It's great that someone has close to a five-star average review, but if they're booked up while your water damage is only seeping in and getting worse, then what good are they to you? Try to narrow your search down to the top two or three companies and then give them a call to see how soon they can come out to assess the water damage and start repairs.
5. How much do they cost? This is probably your biggest concern, and rightly so, because most homeowners are living on a tight budget. While you'll easily reject a quote that's out of your price range or simply seems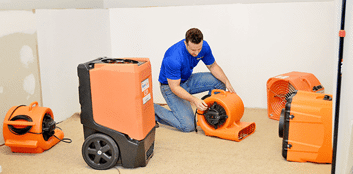 unreasonable based on the scope of your project, just make sure you aren't tempted to go for a quote that seems unusually low. A quality company that is going to do quality work is going to charge at least enough to cover its labor and supply costs while still producing a profit, so don't expect a company that gives you a super-low estimate to invest the time and energy required to properly dry, clean and restore your home.
6. Are they certified for water damage restoration? Flooding response teams and water damage restoration crews should be certified by the Institute of Inspection Cleaning and Restoration Certification (IICRC), which sets the gold standard for moisture control companies who use the best equipment, train their employees properly, and have a reputation for stellar service to their customers.
Regardless of your flooding issue, we suggest taking a look at AdvantaClean since you're already here on our site. For over 25 years, our moisture control experts have been making homes like yours as clean, dry and safe as possible for families to enjoy living without the worry of water damage developing into something even worse like black mold, structural damage from rotting wood and surfaces, or even reduced indoor air quality. Give us the chance to earn your business and we guarantee you'll be satisfied with our price and our work. We're certified and standing by to serve you and your family as soon as possible. But you have to get in touch with us first, so read our reviews and contact us today! Sure, you could trust another company with your water damage restoration, but it won't be clean until it's AdvantaClean.
More info? For more information on water damage in your home, read: DO YOU KNOW THE SIGNS OF WATER DAMAGE?