How Do You Clean a Basement Floor Drain?
Many basements come equipped with a floor drain, allowing them to remove water that seeps in or is spilled. But what happens when the floor drain is clogged, and how do you clean a basement floor drain? If your drain is clogged, you will notice a decided odor in the room and water pooling where it used to dissipate.
Any basement can spring a leak, even new builds. While older homes are more prone to basement water damage, modern houses with improper drainage or grading can have water issues as well. Any water that pools around the base of the home, at the top of the basement wall, will try to find a way inside. If you have any cracks in the walls of your basement, hydrostatic pressure will force pooling water and groundwater into your basement. If the water has a clear path to a clean floor drain or other basement waterproofing solution, you'll probably avoid severe damage and mold. When your floor drain is clogged or blocked, water will have nowhere to go, potentially causing severe damage to your floor and walls, or even growing mold.
SO, WHAT CAN YOU DO? HOW DO YOU CLEAN A BASEMENT FLOOR DRAIN?
Floor drains naturally catch debris and other gunk, building up inside and necessitating a clear-out. If there is debris clogging the drain, or there is no water in the trap below it, sewer gas odors will waft out of the pipe, causing a strong smell in the basement that can float into the rest of the house.
You can clean your basement floor drain with regular flushing, which will also keep water in the trap below it.
HOW DO YOU CLEAN A BASEMENT FLOOR DRAIN AND WHAT SUPPLIES DO YOU NEED?
To properly flush your basement floor drain, start by gathering your supplies.
Rubber gloves
Screwdriver
Plastic bag
Pot for boiling water
5-gallon bucket
An old toothbrush
A pound of baking soda
A gallon of vinegar
HOW DO YOU CLEAN A BASEMENT FLOOR DRAIN AND WHAT ARE THE STEPS INVOLVED?
Every floor drain is different, so check yours out thoroughly before starting the flush. A screw attaches some floor drains, so use the screwdriver to remove them. If yours doesn't have a screw, or you've just taken the screw out, you can easily pry the grated top out of the floor.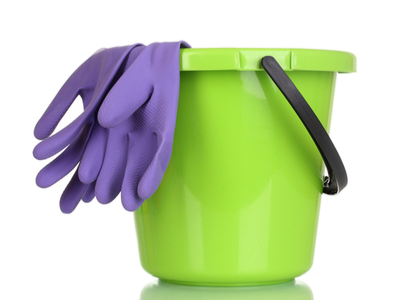 Work on clearing out any debris and general gunk that you can with your hands, using the rubber gloves and placing what you pull out into the plastic bag to dispose of it.
When your boiling water is ready, pour it down the drain and let it sit for 15 minutes. Sprinkle the baking soda into the pipe, and attempt to coat all the sides. Pour the vinegar down the drain to kill the accumulated bacteria and eliminate the sewer gas odors. Let that sit for 10 minutes. Flush the vinegar with more boiling water, and then repeat the entire process several times until the drain is sufficiently clean and odor free.
When you're done, clean the grated top and replace. Follow these steps every-so-often to keep your floor drain clear of debris and to prevent water damage and odors in the basement.
HOW DO YOU CLEAN A BASEMENT FLOOR DRAIN AND WHAT IS BASEMENT WATERPROOFING?
If you currently have basement leaks, or you're justifiably concerned about them happening in the future, cleaning your basement floor drain might not be enough. Basement waterproofing entails solving the source of your leak or moisture issues. A certified moisture control company will evaluate your basement, finding the cause of your water and developing a plan to fix the situation before you experience worse water damage. They may recommend installing a dehumidifier, installing a sump pump, or sealing cracks and gaps in your basement walls. Take every necessary step to avoid water damage in your basement.
More info? For more information about basement odors, check out our other post: WHY BASEMENTS SMELL MUSTY.
Call 877-957-5670 to schedule an appointment with an AdvantaClean basement waterproofing specialist today!