Why Basements Smell Musty
Basements are the perfect breeding ground for a mold or mildew problem, creating a musty smell that can be hard to get rid of. As some or all of your basement walls are built underground, the cold, moist soil surrounding the walls leeches moisture into the basement. Mold and mildew growth occurs where there is dense or substantial humidity.
Moisture accumulates in basements when there is an avenue for it to enter. Common reasons why basements smell musty include:
Cracks and gaps in the walls or floor
Malfunctioning floor drains
Malfunctioning appliances and fixtures
WHY BASEMENTS SMELL MUSTY: DO I HAVE A MOISTURE AND MOLD PROBLEM?
If you're not sure if your musty basement smell is from a mold or mildew problem, check for signs of moisture. Even if your basement is finished, there could be high moisture levels in the area. Look for water stains on the walls or floors, including condensation build up. This means water is getting into the basement somewhere, even if you don't currently see any water.
Keep an eye out for discoloring of wood or drywall; this can indicate mold growth. Look for efflorescence, white mineral deposits, that develops around cracks and other openings that are letting water inside.
Check your walls for bowing or bulging. Your basement walls should always stand perfectly straight. If they are bowing or bulging, the soil behind the wall is pushing too hard outward onto the wall, causing the foundation to shift. Bowed walls are more likely to let water into the basement when it rains.
If you see these or other signs of moisture in your basement, there is probably mold or mildew growing—a reason why basements smell musty.
WHY BASEMENTS SMELL MUSTY: HOW TO FIND THE SOURCE
To remove the musty smell in your basement, you need to locate the source of the odor. If you have any cracks in the walls or floor or sizeable gaps around piping that are letting water into the basement, you have a higher chance of mold growth, a musty smell, and basement flooding.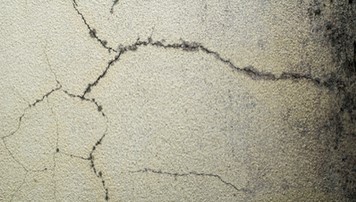 Neglected floor drains are always cause for concern. Check the trap below the drain for its water level. If there is no water at all, flood the trap with fresh water until it's full. A dry water trap allows sewer gas to leak up from the drain, causing a significant odor problem.
Check the drains of your appliances and bathroom fixtures as well. Anything in the basement with a drain requires a constant level of water in the trap or sewer gas will escape, and water/moisture problems will occur. Additionally, a hidden long-term leak from a basement appliance or fixture can cause severe damage and mold growth, developing a musty smell. Check any pipes in the basement for leaks as well; leaks are a typical reason why basements smell musty.
WHY BASEMENTS SMELL MUSTY: FIXING THE MOISTURE SOURCE
A damp basement that develops mold and a musty smell is potentially harming your health. The Centers for Disease Control and Prevention (CDC) have linked a moist indoor environment to upper respiratory tract symptoms, and occupants of your home that have a sensitivity or allergy to mold can suffer uncomfortable side effects when mold is growing in the house. Fixing the moisture source not only removes the musty smell but saves your family from the harmful effects of moisture and mold.
Look for DIY solutions first, such as filling the trap with water below basement floor drains and fixing or replacing leaky appliances. If the moisture and smell are still present, call in a professional basement waterproofing company. The technician will diagnose the source of the moisture and provide an estimate for fixing the problem. Once the problem is resolved, open any windows to air the room out. Use fans, dehumidifiers, and odor eaters to further reduce and eliminate the musty smell. Remove any fabrics to air them out and clean them of the smell.
Check your basement regularly for signs of moisture and mold, resolve any future issues, and save your basement from mustiness.
More info? For more information about mold and mildew in the home, check out our other post: IDENTIFY MOLD AND MILDEW IN YOUR HOME.
Call 877-957-5670 to schedule an appointment with an
AdvantaClean
specialist today!