Basement Tips To Add Value To Your Home
Basements can be great additions to your home, but they can also turn into a nightmare. Some homeowners look at their basement as excellent storage space and little else, while others are looking at a way to increase their living area and the value of the home. If you have the time, finishing your basement can be a tremendous asset to the value of your house, giving future buyers more incentive to purchase.
While a finished basement doesn't add nearly the value as an above ground addition, it is still a boon at a fraction of the price. Unfinished basements come preloaded with a floor, walls, ceiling, plumbing, and electricity.
If there is a house in your neighborhood with a similar floor plan and number of bedrooms, your property value would generally be similar. If you have a finished basement and they have an above ground addition, those changes would make your neighbor's house worth more. This is because basement living space is valued differently than additions. Finished basements are rarely counted in the floor space by an estimator.
But don't count a finished basement out. It is still a great way to add some value, increase your living and recreation space, and make your home more desirable when you wish to sell.
BASEMENT TIPS TO ADD VALUE TO YOUR HOME: TYPES OF BASEMENTS AND THEIR VALUE
There are several variations of basements out there, some more attractive than others. If you need some basement tips to add value to your home, first look at what style of basement you have.
The most desirable basement is a full walk-out. A cellar is, by design fully or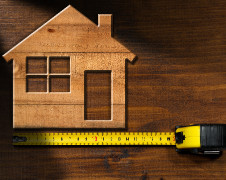 partially underground, and a basement with enough exposed wall space to add full-size windows and doors has great value. Windows and doors add a significant amount of natural light to the area, and once the basement is finished it will feel more like a part of the house rather than a completely separate space. Walk-out basements also have the potential for a patio and other yard attractions.
A garden level lot or partial drop in grade gives you a basement with full-size windows but potentially no full-size door. These types of cellars are created when the grade of the land slopes down enough to expose some basement wall space. This variation of a basement is less desirable than a full walk-out, but a finished one is still attractive enough for basement tips to add value to your home to work.
The least alluring basement is a non-walk-out, fully underground basement. These have four walls entirely underground with potentially only small cellar windows up high on the walls. There is little to minimal natural light, and while finishing these basements can add some value, it is less likely you will see a dollar-for-dollar return on your investment when you try to sell.
WHAT ARE BASEMENT TIPS TO ADD VALUE TO YOUR HOME?
The best part about finishing your basement is the ability to customize the space to your needs, wants, or hobbies. Are you a fitness guru? Add a gym.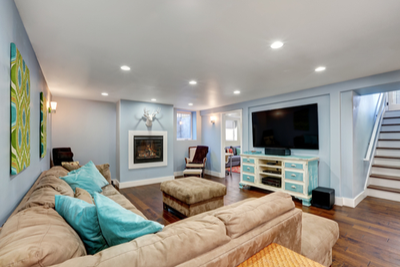 Does your family play a lot of instruments? Add a soundproofed music room. Are you movie buffs? Add a home theater. Are you a wine aficionado? Add a wine cellar. The options are endless.
The downside to customizing the space is the resale value. Bedrooms, living rooms, and bathrooms are boring, but add significantly more value to the house.
Another excellent basement tip to add value to your basement is lighting. If you can't get ample natural light into the basement, add enough overhead lights to brighten the space. No one wants to spend time in a dark room.
When you've decided to sell your house and are wondering about finishing the basement to add value to your home, don't be too hasty. A finished basement isn't a guarantee of added value, especially if you build a specialty space. Talk with your real estate agent about the potential of added value before you make any decisions.
WHAT ARE BASEMENT TIPS TO ADD VALUE TO YOUR HOME AND NOT SCARE A BUYER AWAY?
The most critical part of basement tips to add value to your home is making sure there are no leaks or moisture problems. Any type of leak, whether it's from a crack in your wall, a clogged floor drain, or improper grading of your lot, can significantly decrease the value of your home. Water leaks are no laughing matter; they can cause severe damage and mold growth. Even finished basements can spring a leak.
If you notice water damage or signs of moisture in your basement, call a professional basement waterproofing company and schedule an evaluation. You need to know where the water is coming from and how to stop it. You might need cracks sealed, a dehumidifier installed, or a sump pump added to your basement.
More info? For more information about adding living space to your home, check out our other post: WHEN IS A BASEMENT CONSIDERED LIVING SPACE?
Call 877-957-5670 to schedule an appointment with an AdvantaClean basement waterproofing specialist today!