AdvantaClean of Norcross and Buford Our Work
Case Studies
What Are Benefits of Hiring AdvantaClean for Norcross and Buford Water Damage Restoration?
AdvantaClean of Norcross and Buford Can Help With Their High Quality Knowledge and Equipment
Water damage in Norcross or Buford frequently occurs without warning, exposing residential and commercial properties to potentially severe damage and degradation of structural components. The sources of water incursion vary, and contamination of the fluids in some circumstances complicates mitigation and remediation. It is rare for homeowners or business owners to have the training or the equipment to assess the damage and manage water removal, structural drying, cleaning, sanitizing, and disinfecting. AdvantaClean offers local and highly-qualified technicians and an extensive inventory of commercial-grade equipment, tools, and products for efficient water damage clean-up in the Norcross and Buford areas with a 24/7 response.
Why Does AdvantaClean Offer Work Crews Trained to International Water Damage Restoration Standards?
AdvantaClean in Buford and Norcross ensures our managers and work crews adhere to the water damage recovery industry's best practices. We train through the Institute of Inspection, Cleaning and Restoration Certification (IICRC) coursework emphasizing
psychrometry, the science of drying. Mastery of these disciplines plus on-the-job experience supports AdvantaClean in achieving water damage restoration success. Our crews carefully configure equipment placement and skillfully apply the four principles of drying:
Extraction -- Removing liquid water with truck-mounted and portable equipment, significantly reducing drying time
Air Movement -- Using a variety of low profile, adjustable, and axial fans in optimal configuration to encourage water trapped in building materials and fixtures to vaporize
Temperature -- Adjusting heat to accelerate evaporation as warmer air can contain higher vapor levels
Dehumidification -- Choosing from among evaporative and desiccant units to capture the water vapor for disposal
How Does Water Intrude into Norcross and Buford Properties?
Dozens of sources of water damage exist. The most common in the Buford and Norcross region include:
Damaged and aging plumbing, from slow leaks to burst pipes
Malfunctioning appliances and such as dishwashers, ice makers and water dispensers, and washing machines, often stemming from:
Broken pumps
Cracked supply or waste lines
Loose, broken, or improperly connected hoses
Dirty filters
Backed up sewer lines, clogged by roots or debris, or back-washed when stormwater enters from overwhelmed municipal sanitary systems
Overland flooding or foundation seepage during torrential rains and wind damage events permitting precipitation to enter a home or commercial building's envelope
Poorly maintained or missing gutter and downspout configurations, exacerbating foundation damage and allowing intrusion of water saturating the ground at the perimeter of a building
Can Property Owners Afford to Wait for Water Damage Mitigation and Remediation?
Water is incredibly corrosive and is even more harmful when contaminated with sewage or residues from overland flooding. As the minutes tick by, Norcross residences or Buford commercial buildings risk deterioration of nearly all structural components, fixtures such as cabinets and carpeting, and contents. The damage begins immediately and worsens exponentially, leading to secondary issues like mold damage. Our local AdvantaClean team arrives quickly, comprehensively staffed, and equipped to assess the damage and commence the emergency service to abate water damage of every type.
Should Norcross and Buford Residents and Business Owners Pre-Plan to Prevent a Water Crisis?
AdvantaClean invites proactive individuals and businesses to evaluate their properties' water and moisture damage risks with our guidance. We assess all aspects of your home or commercial site's potential for stressful, disruptive, and expensive water losses and recommend fixes and adaptations to avoid or minimize the potential for destruction.
Contact AdvantaClean of Norcross and Buford with confidence at (470) 819-2070. We pledge to handle all aspects of commercial or residential water damage restoration professionally and with integrity.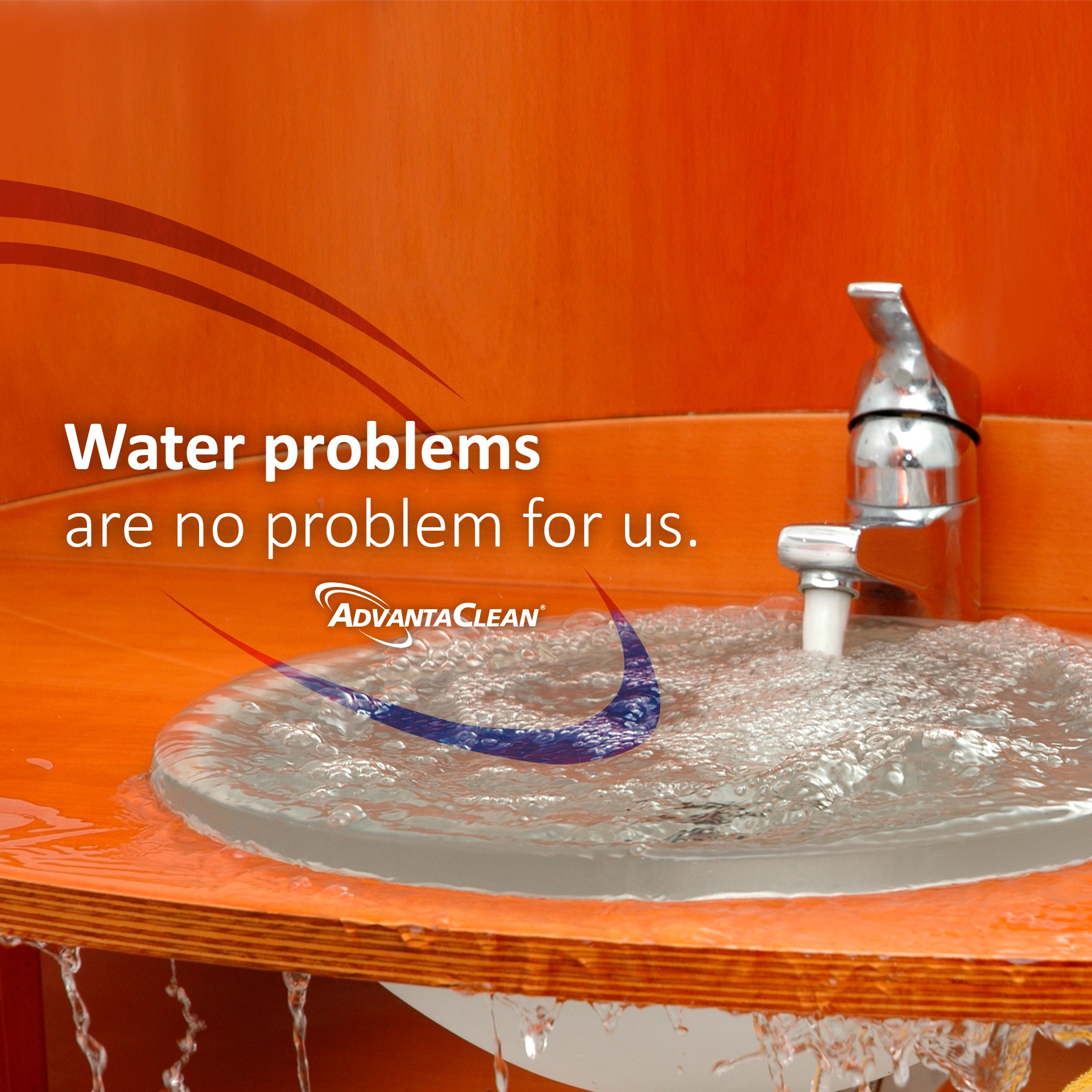 Water Damage Restoration Norcross - GA
Incomplete Water Removal Causes Customer to Lose Kitchen Cabinets
Location: Metairie, LA 70005
Problem:The homeowner started noticing possible mold growth and suspicious odors in her kitchen. Several weeks prior, a water line to her refrigerator leaked and partially flooded her kitchen. At that time, the appliance contractor repaired the leaking hose, but never suggested that she get a professional water restorer to make sure everything was dry.
Ms. Mary was concerned for her health and well-being and called AdvantaClean to assess her situation. Visual and moisture meter inspection revealed elevated moisture readings at the bottom of her cabinets and sheet rock. Later mold sampling verified the presence of mold spores at a level indicative of active microbial growth (around 45,000 spores inside, compared to 100 outside)
Solution: Containment was built and area placed under negative pressure. Bottom cabinets and affected sheet rock disposed of, all surfaces inside containment were remediated, and drying equipment turned on. After remediation, customer requested that we clean her air ducts as well.
Anything that stood out in this project:
This is not the first time that we've seen this scenario, namely, that another contractor doesn't know to or doesn't want to recommend drying in these situations. What could have been resolved pretty quickly and much less destructively, turned into a homeowner having to replace all of her kitchen cabinets. What should have been a little bit of toe-kick repair, minor sheet rock patching, and water restoration work, instead turned into new kitchen cabinets and counter tops, sheet rock repair, and a more expensive mold remediation. In this case, bad things came for those who waited.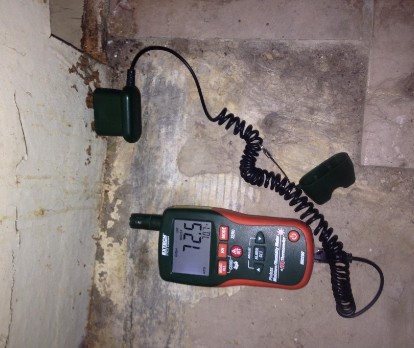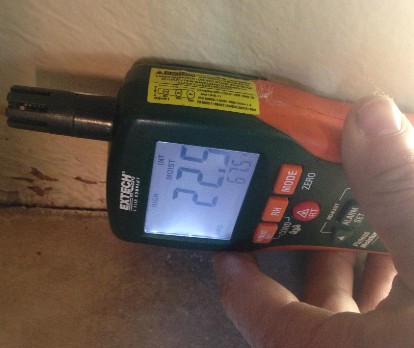 Insurance Recommened Vendor Performs Incomplete Water Restoration Leading to Toxic Mold Growth Inside Kitchen
Location: Kenner, LA 70065
Problem: We received a call from this client after they received a particularly bad mold report from a respected, local Industrial Hygienist. She was quite concerned about the presence of "toxic / black mold" in her house, also known as Stachybotrys. The report read as such: (Please see below)
Yes, that's a 7-figure spore count of the worst kind of mold to find and it was in their kitchen.
They had a serious problem. The first question we had was what was the moisture source of this stupendous mold growth, which happened to be a very common occurrence in these parts – roof damage caused by a storm. Water was rushing through a hole in the roof above the second floor and down into the kitchen for several hours.
Our client contacted her insurance company immediately to file a claim, which is imperative in these situations. The insurance company recommended one of their "preferred vendors", a national Service provider franchise to mitigate the water damage. As part of this service, and where things went sideways, the vendor failed to check for moisture beneath the kitchen cabinets and behind the refrigerator. This moisture remained trapped and undetected for several weeks until the homeowner noticed what appeared to be mold growing out the side of a cabinet.
Solution: Unfortunately, this client lost their entire kitchen. A full gut and remediation of the kitchen was performed.
What to take from this situation:
Two points to remember if you find yourself in a similar situation: 1) no insurance policy requires a policyholder to use a preferred vendor over another similarly qualified contractor and 2) the preferred vendor has an interest in maintaining the relationship with the insurance company, not the policyholder.
An awful situation was made much, much worse by the vendor's negligence. Also, this client learned how quickly the relationship can turn adversarial with an insurance company. She was forced to hire her own consultant to test for mold after doubting the insurance company's test results. Not surprisingly, the insurance company tests showed no problems whatsoever, whereas the independent hygienist found a 6- to 7-figure count of toxic mold in the same kitchen.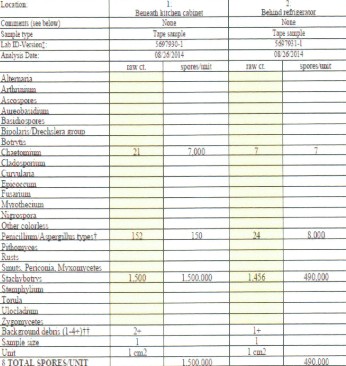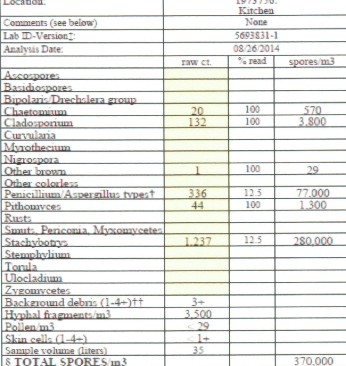 Onguard Guarantee Saves Real Estate Closing
Location: Metairie, LA 70001
Problem: AdvantaClean of Metro New Orleans was contacted by the seller in a real estate transactions with a mold issue that turned up during the home inspection process. The buyers were concerned about the high spore count found by the home inspector and the sellers were concerned about losing their buyer.
At the initial estimate, AdvantaClean of Metro New Orleans was able to develop a plan to address the mold issue. However, the buyers were looking for some assurance that the issue wouldn't return in the future.
Solution: AdvantaClean of Metro New Orleans was able to not only a fix to the mold problem with their remediation protocol, but also offer assurance for the future in the form of OnGuard Guarantee. The OnGuard Guarantee is a one-of-its-kind inspection and assurance program that offers a fully-transferable protection and Property History Report. Should an issue arise in the future, the OnGuard Guarantee is backed by an A-rated insurance company and a $100,000 remediation/repair guarantee.
Both the seller and buyer were able to complete their real estate transaction with complete confidence that the mold had been addressed.
Prevent Pipes from Freezing
How to Keep Your Pipes From Freezing in winter.
Location: Tri-State
AdvantaClean shows to keep your pipes from freezing in cold weather.
Mold Remediation and Flooding
Basement flooding cleanup project.
Location: City, State
Problem: AdvantaClean was called to perform a free inspection. A water damage problem was experienced on the basement. Microbial growth started to develop on the ceiling and walls. An independent Mold Assessment company performed an inspection and collected samples, analyzed lab results, and developed a detailed scope of work. Solution: Our crew began with the work, following the scope of work provided by the mold assessment company, we began building plastic containment to isolate affected areas from the rest of the house. We HEPA Vacuum interior of walls and ceiling and wiped down with an anti-microbial solution all cavities. Our crew also encapsulated all remaining materials with an anti-microbial paint to protect remaining material from advanced microbial growth.
Save the Wine
Mold Remediation
Location: City, State
Faulty air conditioning unit and ground water leak from a neighbors lot resulted in gross contamination of this clients wine cellar. We were able to remediate the mold and save the WINE!