AdvantaClean of Knoxville And The Smokies Our Work
Case Studies
Prevent Pipes from Freezing
How to Keep Your Pipes From Freezing in winter.
Location: Tri-State
AdvantaClean shows to keep your pipes from freezing in cold weather.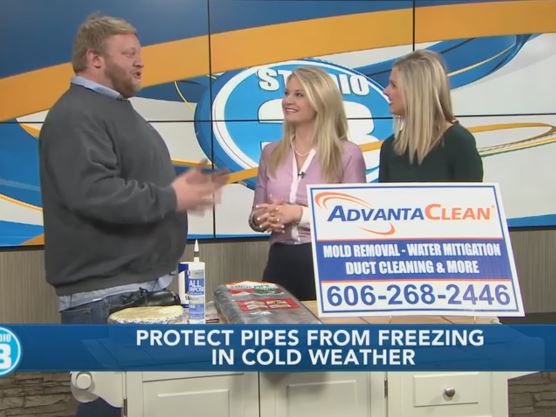 Mold Remediation and Flooding
Basement flooding cleanup project.
Location: City, State
Problem: AdvantaClean was called to perform a free inspection. A water damage problem was experienced on the basement. Microbial growth started to develop on the ceiling and walls. An independent Mold Assessment company performed an inspection and collected samples, analyzed lab results, and developed a detailed scope of work. Solution: Our crew began with the work, following the scope of work provided by the mold assessment company, we began building plastic containment to isolate affected areas from the rest of the house. We HEPA Vacuum interior of walls and ceiling and wiped down with an anti-microbial solution all cavities. Our crew also encapsulated all remaining materials with an anti-microbial paint to protect remaining material from advanced microbial growth.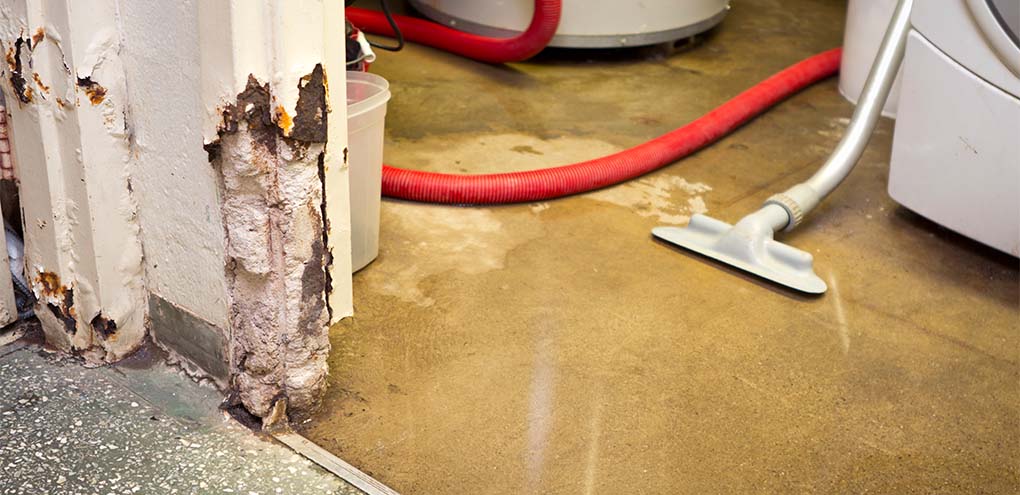 Save the Wine
Mold Remediation
Location: City, State
Faulty air conditioning unit and ground water leak from a neighbors lot resulted in gross contamination of this clients wine cellar. We were able to remediate the mold and save the WINE!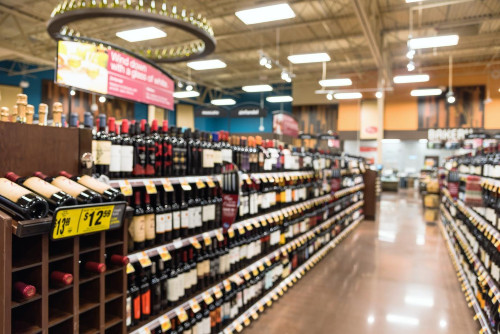 Crawlspace Encapsulation
Location: South Knoxville, TN 37920
Problem: Years of neglect to this South Knoxville crawlspace led to a variety of problems that went unnoticed until the house was sold. Even though it is located in a resurgent area of the city and near the Tennessee River and close to the University of Tennessee campus, having issues like this can make it hard for house to sell, even in a good real estate market.
Solution: Wisely the new owners took this opportunity to allow some work to be done to not only fix the previous issues but also to create a much better environment for the future. Not only by choosing to encapsulate this crawlspace did the new owners decide to take measures to control moisture intrusion and future mold growth, they also transformed the space into one that is easily accessible and no longer scary to enter. They can now access easily for inspections and/or repairs. They can even use it for some additional storage if they would like.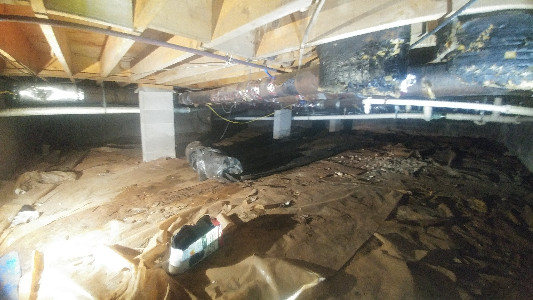 Crawlspace Encapsulation
Location: Knoxville, TN 37919
Problem: A new customer reached out to us for help on moisture control of their crawlspace. They recently relocated to Knoxville from another part of the state and they were all too familiar with what moisture can do to a crawlspace. They had the crawlspace in their previous home encapsulated and knew the value of having that done when moisture is a problem. They just purchased a home in the very nice Whittington Creek subdivision and they want their new home to be free of moisture problems.
Solution: We completed a complete encapsulation of the crawlspace with a crawlspace dehumidifier and a sump pump to handle both elevated humidity levels and to handle ground water from below. We will monitor this annually to ensure everything is in good working order as they have subscribed to our annual inspection package.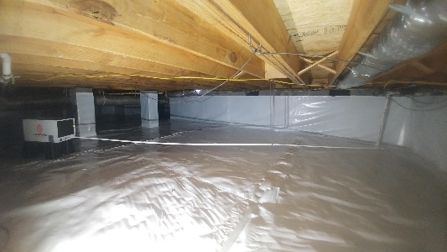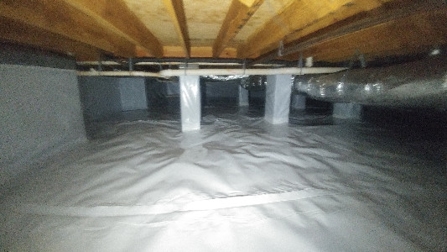 Moisture in Crawlspace
Location: Halls, TN 37938
Problem: I was contacted by a homeowner this week that was told she had some moisture issues in her crawlspace. The access was very difficult to navigate and I'm certain this very nice lady had probably never been under her house. I mean, I could barely get to it myself and I do this on a daily basis. I mention this because I asked her why she thought she had a moisture issue. She was told by someone else that had been under the house. They weren't sure of the source but told her she might have some plumbing leaks. After knocking all of the spider webs down as I crawled around, I stumbled upon a major issue that unfortunately, she could never see! The supply trunk line of her HVAC system had almost totally come apart in one area. It was, therefore, dumping almost all of her cold air into her crawlspace instead of the living area. I asked her before I told her what I found if she thought her air conditioning was cooling the house properly. She said, "I don't know but it sure does run a lot". I'm sure it does, I thought to myself.
Solution: Thankfully we were able to identify this problem for her. She said, "no wonder why my power bill is so high!" No doubt! Fixing this should ease the burden on her HVAC unit immensely. This will lead to a much lower electric bill. Not only that, but this should help address the problem she had me out for, to begin with. Dumping all the cold air into the crawlspace was causing a LOT of condensation in the crawlspace creating a major moisture issue. I'm glad we were able to help her identify this problem. If this were to continue much longer she would have a large mold problem on her hands in the crawlspace which would have led to indoor air quality issues. Too much moisture is not an ally of a building structure!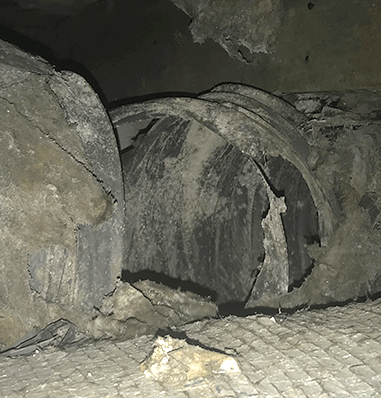 Experience & Training
Location: Knoxville, TN 37921
Problem: I was called to a customer's house the other day because he had a flooded basement. When I arrived I found that the leak had not been fixed yet, in fact the exact location of the leak was still in question. This homeowner had a plumbing company out that to diagnose and provide a quote but no work had been done yet. In explaining what he knew so far about the situation to me, he told me about the work proposed by the first plumbing company on site. While we are not plumbers by any means, we do have a lot of experience handling damages caused by water leaks. We have seen a lot over the years. Something about their plan just didn't sit right with me. It didn't seem like a logical, cost-effective, minimally-invasive plan. They were suggesting that kitchen cabinets and countertops would need to me detached in order to gain access to fix the leak. With our moisture detection tools and our experience, I speculated that there could be an easier way. A way that didn't involve the cost and the overall inconvenience of basically dismantling his kitchen. He was all ears.
Solution: I suggested that he contact a plumber that we work with, someone that we trust and know that is there to solve problems like we are. Interested in not having his house torn up more than it needed to be, the homeowner gladly scheduled an appointment with the new plumbing company the next day. As suspected, the leak was actually easily accessible another way and the fix was easy. The kitchen did not have to be dismantled. We dried the basement and took care of the water damage like normal, but what made this job rewarding more than that was to know we helped keep the homeowner keep his house in order. He was concerned he would be living in a hotel for a week or two or more. This could have easily gotten out of hand by going with the opinion of someone who maybe doesn't have the expertise, experience, and training to properly figure these things out. The insurance company, by the way, was very happy that we found another way as well!
Annual Evaluation
Location: Knoxville, TN 37919
Problem: One thing we do with some of our customers is we evaluate trouble areas annually to be proactive in the prevention of mold and/or moisture problems. We particularly do a lot of annual check-ups on crawlspaces as they are often "out of sight - out of mind". I visited a customer yesterday that is set up for annual evaluation. This customer knows how much of a problem and unhealthy crawlspace can cause the living area of a home and furthermore, how much of a hurdle a troubled crawlspace can be in a real estate transaction if he wants or needs to sell his home. He wants to stay on top of it. They may stay in the home for 10 years, they may want or need to sell the home in two months. If they do stay, indoor air quality is of paramount importance to him as he has a bustling young family. Last year everything was looking good but it is time to check on it again. Yesterday was a good day to look under the house. It had rained and it was humid. Moisture is the enemy of a crawlspace and evaluating the space in wet conditions gives a good picture of what is going on. There was no standing water and it appeared everything was good from a drainage standpoint, keeping water from seeping in under the house. However, the relative humidity was nearly 90% under the house. The ductwork was sweating creating additional moisture in the space. There were signs of some new mold growth that I did not see last year. Wood will want to absorb moisture and eventually being subjected to those conditions, the wood will take on enough of that moisture for mold to take off.
Solution: Fortunately we caught this early. The mold that was there was very minimal and somewhat minor compared to what we see normally when a crawlspace has been neglected for years. This allowed us to propose solutions for moisture control. We were able to propose about three different options. The customer is taking these all under consideration and will make a decision based on what he feels is best, all are suitable options and really depends on preference. Our partnership with this customer the trust that he has in us has probably saved him a few thousand dollars in future repairs by catching this now. After he makes his decision, our job doesn't stop there after the install. We already have next years appointment on the schedule. It is equally important to ensure our solution is working as it should going forward. Hopefully next year, my back won't get wet crawling under the sweating ductwork!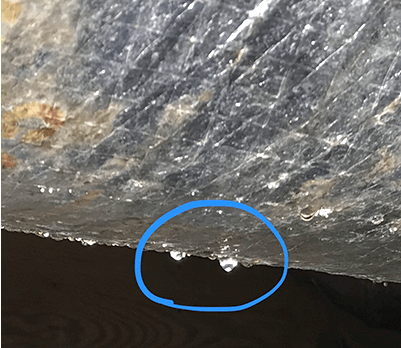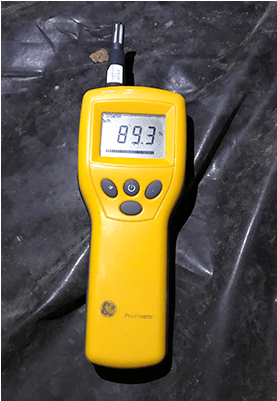 Mold Removal
Location: Knoxville, TN 37922
Problem: We recently inspected a crawlspace that had "fungus" pointed out in the home inspection report. Upon visiting the property, it was evident this crawlspace had a moisture problem and a mold problem. Soon after we found out that this property had a remediation done previously and that there was a dehumidifier installed to help control the moisture. That's odd, I thought to myself, I didn't see a dehumidifier in the crawlspace. Furthermore, the crawlspace vents were not sealed. Sealing vents is a standard practice when installing a dehumidifiers. We then find out that the dehumidifier was removed because it wasn't working. Well, I thought, of course it's no longer working, it basically burnt out trying to keep up with dehumidifying all of Knoxville and the Earth for that matter. Needless to say, the homeowner trying to sell this home was none to happy. Something they thought they had a solution for had gotten out of hand badly. Not only did their dehumidifier need to be replaced, they now had a mold problem.
Solution: Performing a mold remediation in a crawlspace is fairly routine for us. We have done a lot of them. This was a little unique because everyone was under the impression that the crawlspace was in good shape. Not only was it not in good shape, it required a little more than a normal remediation. This particular situation left heavy staining on the wood. Our normal mold removal process was doing a good job of removing the mold however it still didn't look good. We weren't happy with this. We enlisted the use of a very handy mold stain remover that does a terrific job. Now that we had the wood looking back to normal and the mold removed we replaced the dehumidifier and sealed the vents. While this was an unexpected headache for the homeowner, we were able to get this done on schedule and done right. This is why we do what we do.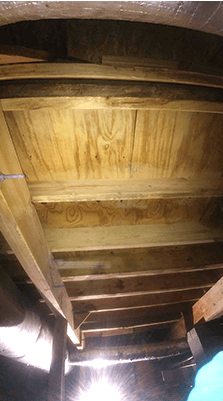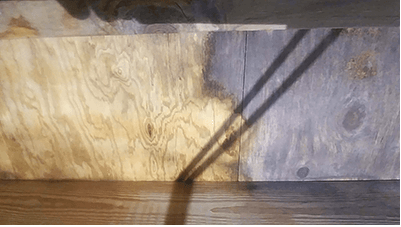 Mold Remediation and Moisture Control for Prevention
Location: Knoxville, TN 37922
Problem: Local homeowner approached me about looking at her crawlspace in preparation of selling her home. She is in tune with the local real estate market and knows that a damp crawlspace with sagging insulation and signs of microbial growth will cause problems, if not kill a deal. She wisely wanted to get ahead of the situation and fix it now, before she puts it on the market. She consulted with me and asked me to come up with a solution that will take care of the current issue (sagging insulation, insufficient vapor barrier, and microbial growth) along with taking preventative measures to ensure a clean and dry crawlspace for a healthy home for whoever ends up with the house.
Solution: Correcting the moisture problem along with remediation of microbial growth and removing insulation was the plan of action. Included in correcting the moisture problem was to have guttering installed on one section of the front of the house. There was no gutter there and moisture was not being properly directed away from the house. Also, the ductwork running through the crawlspace was heavily sweating. After removing the contaminated, wet insulation and the suspected microbial growth, a crawlspace dehumidifier was installed and a new heavy duty reinforced poly vapor barrier was installed. Within 24 hours of this there was already a huge difference in the crawlspace. The ductwork was no longer sweating and there was a noticeable difference in the air quality as well. The customer commented that our work "made all the difference in the world".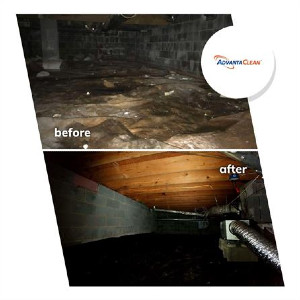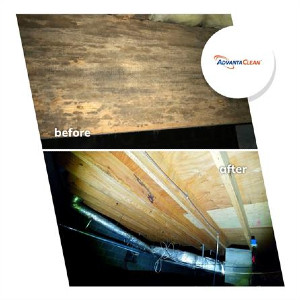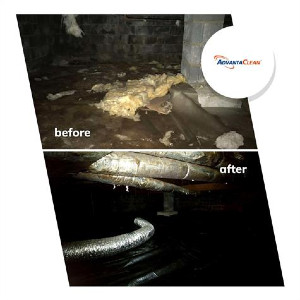 Mold Removal in a Real Estate Transaction
Location: Knoxville, TN 37922
Problem: The real estate agent of the buyer of this house reached out to us after the home inspector "suspected fungus" in the crawlspace of this home. With the buyers being unfamiliar with a problem such as this, the real estate agent asked that we speak with their client and schedule an inspection if necessary. With up to 50% of the air in a home coming from the crawlspace and based on what we saw at the time of visual inspection, we advised remediation be done in the crawlspace.
Solution: This ultimately went back to the seller for review and decision on whether or not they would fix this problem. We were connected with the seller and were able to explain to them our thought process and the reason for our recommendation. Furthermore, we were able to convey to the seller that we wanted to take the approach that was in everyone's best interest. We provided the solution that removed the mold and addressed some moisture issues without going over the top with additional items that were unnecessary. Most importantly, we provided a solution that got the job done well and correctly that was good for the buyer and budget conscious for the seller who was paying. The job had a deadline as do most jobs in real estate transactions. With our approach and communication, the deal was never in jeopardy of getting closed. The job was done on time with everyone pleased with the approach and the outcome.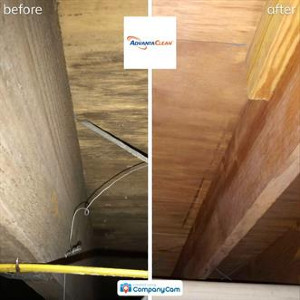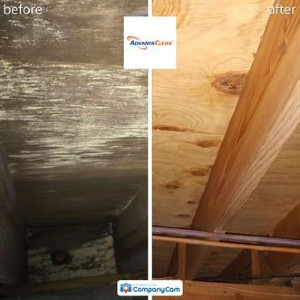 Air Duct Cleaning
Location: Knoxville, TN 37922
Problem: A proactive young couple called us with concerns about mold in their basement. They have a young child that utilizes the basement as a play area and they were concerned about exposing him to unhealthy air quality. Upon inspection, there was buildup of suspected microbial growth on their HVAC registers and they were also showing signs of rust. Our experience tells us two things here - 1) They may have a humidity/moisture problem and 2) They're duct system is dirty. The combination of these two factors can lead to mold growth.
Solution: After consulting with us and sharing our experiences in this area with this building type, a dehumidifier was installed by the customer in the basement to help control the humidity. We strongly suggested cleaning the duct system to help with dirt and dust that were causing the buildup on the registers and also were likely contributing to poor indoor air quality and allergy issues. As it turned out, it is likely this duct system had never been cleaned and we were very proud of the results.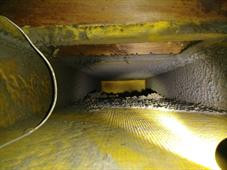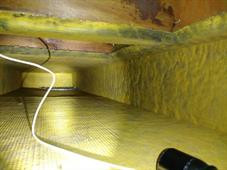 Crawlspace Mold Remediation
Location: Knoxville, TN 37919
Problem: This customer has a small crawlspace, primarily under the master suite of the house. The customer complained of a musty, moldy odor in the home and claimed to have not been feeling well. Upon inspection of the property, a wet crawlspace was discovered with a heavy amount of mold growth found. After further investigation it was concluded that a downspout was not connected properly and was discharging water at the foundation and this water was entering the crawlspace.
Solution: The downspout was properly connected and the water was routed well away from the foundation. Once this was done, we completed a crawlspace mold remediation which included a stain remover. A new vapor barrier was installed and an anti-microbial infused sealant was used to seal the wood floor system from the crawlspace to increase the resistance to moisture absorption into the wood, similar to sealing a deck.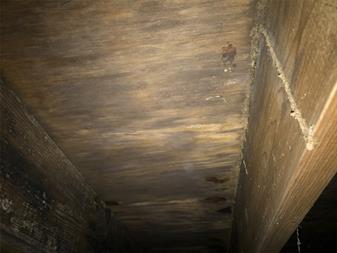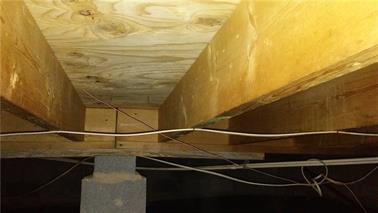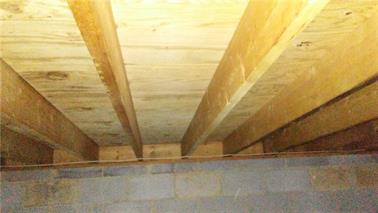 Dryer Not Working, Not Drying Clothes
Location: Knoxville, TN 37921
Problem: Customer called AdvantaClean of Knoxville & The Smokies to clean her dryer vent. Upon arrival, it was evident that the dryer vent was completely clogged, no air was exiting the building. We found out that she had called another company before AdvantaClean and they told her it simply could not be done.
Solution: We determined where the ductwork ran and that we could open up the ceiling precisely in the area of the garage to repair this issue. This customer had no idea what to do. We had many experiences like this and we were excited to be able to provide a solution for her. We opened up the ceiling, replaced the ductwork as needed with new ductwork, reconnected the dryer and had the ceiling repaired for the customer. All of this happened within 2 days of the initial call. From the time of that call, she had a dryer that worked safely and properly. It was a great feeling to provide an affordable solution that allowed her to use an important appliance again and most importantly, use it safely.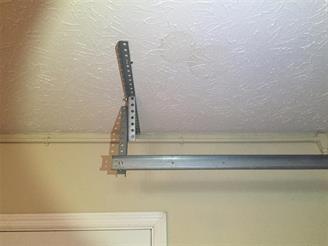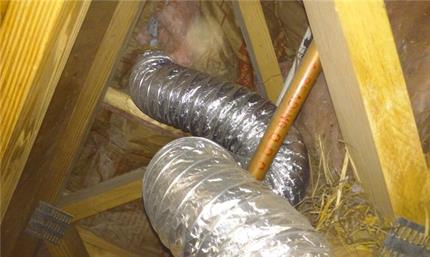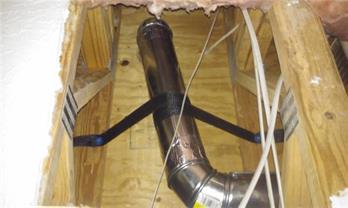 Interior Mold Remediation
Location: Knoxville, TN 37922
Problem: Homeowners were starting to feel sick and noticing some unfamiliar, unwelcome odors in the master bedroom. Homeowners were having headaches and low energy. Homeowners called AdvantaClean to inspect. After a thorough site visit, it was determined that the end tables or night stands on both sides of the bed were completely covering open HVAC vents. Because of the restriction, the bottom and back of this wood furniture had condensation forming and as a result,mold was growing in areas that were not seen without moving the furniture. The homeowners were elderly and could not move the furniture themselves and never noticed the issue.
Solution: The room and furniture was remediated and the issue was resolved. We advised them to a new arrangement for the furniture so the HVAC vents would no longer be restricted.
Crawlspace Mold Remediation
Location: Knoxville, TN 37918
Problem: Homeowner called AdvantaClean to look at crawlspace due to suspected mold growth after she started noticing odors inside the house, odors that weren't normal. She noted that she had recently had a water leak due to a hot water heater that was leaking. She had significant damage to the interior of her home and had new flooring, cabinets, etc. as a result. She noted that the company that did the mitigation for that didn't really do anything in the crawlspace but she suspected a lot of the water went into the crawlspace. Upon inspection, we noticed heavy fungal growth throughout. The crawlspace was not dried in a timely manner nor was it remediated in conjunction with the water leak, although she (and her insurance) was charged for remediation. As a result she wanted a fresh start with a new company.
Solution: We were enlisted for the remediation and great results were achieved and the odors disappeared.