Six Simple Ways to Keep Your Pipes from Exploding this Winter
Whether you're a new homeowner or you've finally paid off the mortgage, if you live anywhere that the temperature heads below freezing, then this time of year is when you have to be thinking about freezing pipes or you could be stuck with a nightmare flooding situation. So unless you like the idea of an unexpected flood cleanup and water damage restoration bill, then read on for six simple ways to keep your pipes from exploding this winter!
1. Increase the heat. We know you're just being mindful of the environment and your utility bills by conserving energy, but if you're in a deep-freeze situation, then there comes a point that you're increasing the risk of a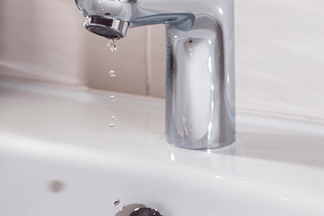 flooding catastrophe from pipes that where the water inside freezes, expands and then causes them to burst. So the easiest way to avoid an issue is simply to stop by your thermostat and turn the heat up a few degrees. Another super-simple way to increase the heat in your home is to close your garage door.
2. Let your interior faucets drip. This allows water to continue flowing, even though it's only a trickle, and that can help you avoid the danger of a freezing pipe that later explodes. You don't need to have the faucet fully running in a stream — just find the setting where it will let out a few drops per minute and that will be enough. Over a long period of time, that could increase your water bill, but for a short-term hedge against a deep freeze pipe problem, it's well worth a few extra gallons of water per day.
3. Remove your garden hoses from the spigots outside. Even though you may think your frost-proof spigot is protecting you, it's essential to remove the hose itself from the nozzle in order to fully protect yourself from a bursting pipe.
Call AdvantaClean for 24/7 Water Restoration
Is Your Home Vulnerable?
93% of water damage can be prevented, request a service appointment today!
Schedule Me
4. Open cabinets and use fans. Back inside, once you've increased the heat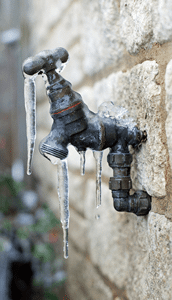 in your home, you'll also need to make sure that it's circulating to all the places where pipes are exposed, like under your kitchen and bathroom sinks or even in your pantry. So open up the doors to the hidden pipes and use fans to help get warmer air from registers over to the colder rooms in your house and the pipes themselves.
5. Use hot towels or hair dryers to warm your pipes. Don't bust out the blowtorch because you could end up damaging the pipe and causing the very issue you're trying to prevent, but using a gentler form of warming can be effective in getting the ice in your pipes to keep from over-expanding and exploding into your home. Your coldest pipes are probably in the basement, but if your downstairs isn't finished, then that means you should have easier access to the pipes that are most at risk of bursting. Keep the water running out of the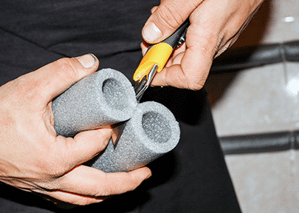 faucets upstairs when you're manually heating the pipes below. You'll know you're having the desired effect when you see the flow increasing out of the faucets.
6. Insulate your pipes or install electric heating cables. Sure, in the dead of winter, you'd rather be cozied up on the couch binge-watching your favorite show or curled up with your favorite book, but if you haven't already taken the time to insulate your pipes, then now is that best time to take a quick trip to your local home improvement store and buy some simple styrofoam pipe insulation, which is very affordable, or even a more advanced electric heating system if your home maintenance budget has a little bit of extra room this year.
Have your pipes burst already? If you're facing any kind of flooding situation in your home, then don't hesitate to contact your locally-owned AdvantaClean service provider today. Our water damage response crews are certified by the Institute of Inspection Cleaning and Restoration Certification (IICRC) and we've seen every kind of flood cleanup and sewer cleanup scenario out there. Don't trust just anyone with your water removal needs: our water damage restoration pros are the best in the business when it comes to getting your home back to its original safe, dry and clean condition. But don't take our word for it! Read some of our reviews online, and then get in touch with us right away so we can get to work for you. Remember: it's not clean until it's AdvantaClean!

More info? For more information about preventing winter water damage, read: HOW TO PREVENT WATER DAMAGE FROM ICE DAMS