Is Mold covered by Insurance?
If you've discovered mold in your home, you're probably wondering if mold removal is covered by your homeowners insurance. Sorry to be the bearer of bad news, but the quick answer is: "Probably not." However, the good news is that you can talk to your insurer about proactively changing your coverage for mold damage if it's something that you've been worried about. Even more importantly, there are a lot of basic steps that will help prevent mold from developing in the first place. Below we'll give you some examples of when your homeowners insurance might cover mold damage, some cases where they likely won't, and our suggestions for better understanding your policy. Then we'll show you how you can help keep mold from infesting your home in the first place so that regardless of your coverage, your risk of an invasion of black mold and other nasty spores will be reduced for months and years to come.
Is Mold Removal Covered By My Insurance?
The key word in the question is "my" — what does your particular insurance policy say? Unless you have specific language stating that mold will be covered by your insurer, chances are that they're not going to pay out for a mold-related claim. Look for "covered perils" in your homeowners policy and see if mold is listed. If it's not, then your best hope is to discover the mold as a result of a disaster that you didn't anticipate. A couple examples of this MIGHT be:
An insulated pipe bursts through no fault of your own and it soaks your drywall. Before you can get it cleaned up, mold develops.
A tree limb caves in part of your roof and before you can get the area covered, rain comes in and causes mold.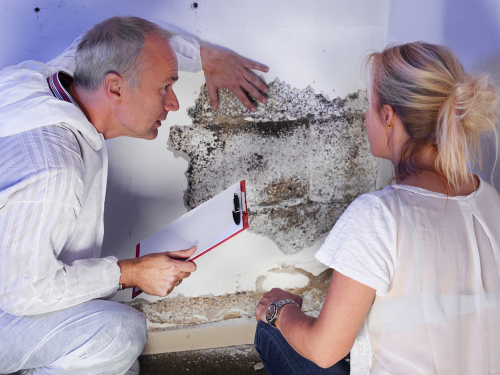 The problem here is that mold probably isn't going to develop that quickly. It needs time for the right temperature and moisture conditions to allow it to grow and start feeding on whatever surface is providing its food source. In other words, insurance companies probably are NOT going to cover you for situations where you're expected to maintain your home with routine inspections and maintenance, like the following:
You just noticed a washing machine, dishwasher, or fridge hose leaking and it caused mold. If it's been leaking for weeks or months, then don't expect to be covered.
Your roof is old, and it's been leaking into your attic where mold has developed. Your insurer will probably deny this claim because you should have already replaced your roof.
These are only a couple of examples out of the nearly endless possibilities for how mold can develop in your home. So if you're concerned that mold might develop where you live and you want to protect yourself more fully against the risk of mold damage, talk to your insurer about adding a provision (with an additional premium) to cover this sort of risk. Take into account that the cost of the premium over time might be greater than simply hiring a professional mold remediation specialist to take care of the mold removal for you.
Call AdvantaClean for 24/7 Emergency Services
Is Mold Affecting Your Health?
Don't wait till it is too late, AdvantaClean can help, request a service appointment today!
Schedule Me
How Can I Prevent Mold in the First Place?
The other option is to take proactive steps against mold developing in the first place so that you won't have to worry so much about making a mold-related claim to your insurer at all. These efforts can be as simple as the following:
Ventilate your home by opening windows. Especially in the spring and summer months, this is the simplest, cheapest way to increase the health of your home.
Conduct routine inspections of your roof, attic, basement, crawlspace and other areas to see if there are leaks.
Control the humidity in your home by using dehumidifiers, especially to control your basement moisture and crawlspace moisture.
Clean and sanitize surfaces throughout your home on a regular basis, especially your bathrooms where mold loves to start developing.
Who Can I Call If I Have Questions About Mold?
You don't want just anyone helping you figure out how to deal with mold — you need a highly-trained, well-equipped and professional mold remediation technician to conduct a thorough mold inspection and mold testing service to give you the right plan for fixing whatever mold problem is infecting your home. Here at AdvantaClean, that's what we've been doing since 1994. Our local experts are standing by to support your family with any mold-related questions or concerns. So whether it's a question about filing a mold insurance claim or simply wondering whether you really have a mold problem, to begin with, we're the first call you should make. We're certified and our crews only use the latest, most sophisticated HEPA-filtered suction systems. Let us show you the difference we make because it's not clean until it's AdvantaClean!
More info? For information on mold prevention, read our post PROTECT YOUR HOME FROM MOLD