Home Inspection Reveals Mold, Now What?
So you've finally found that perfect house after months or even years of looking in this crazy real estate market, and you're thrilled to be in contract – congratulations! But now you're discovering that you're still a long way from actually getting the keys and moving into this new house that you hope to call your home. There's the home inspection, then the appraisal, and so many other important steps. So if your home inspection reveals mold, now what? It's all all-too-common nightmare for prospective homeowners, but try not to let it discourage you too much because we've got some suggestions on how you can approach this potentially touchy situation and hopefully preserve your pending home purchase.
Ask lots of questions. Ideally, you were able to join your home inspector as he or she went through the property so you could see for yourself what the major and minor issues are. Even if you weren't physically present, however, have the inspector go over the photos from their report with you and your realtor. This is not the time to think, "I have a stupid question and I'm embarrassed to ask it." When it comes to moisture control issues, from water damage to any kind of mold situation, you should ask any and every question you can think of because whatever you don't ask now is something you'll wish you asked later when it's time for the mold remediation. Mold isn't something that you can just DIY, and even home inspectors are generalists who may not have the know-how for properly remediating issues like black mold and other spore-related moisture control problems. He or she may mean well, but you should really have a certified mold remediator conduct a deeper assessment.
Get a quote. If you didn't see the problem first-hand during the inspection, then you can always have your realtor ask the seller to give you some additional time in the home so a certified mold removal technician can conduct a thorough mold testing and mold inspection to give you an estimate for how much it will cost to get rid of the mold and keep it away. If possible, get a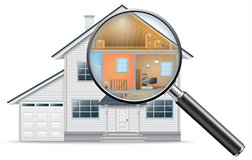 quote from two or three local companies to see what the price range will be, and again we recommend being on-site with them as they conduct their assessment. Even if you don't know a lot about mold, you'll be able to tell if someone knows what they're doing when they walk you through the process and you continue to ask them lots of questions.
Call AdvantaClean for 24/7 Emergency Services
Is Mold Affecting Your Health?
Don't wait till it is too late, AdvantaClean can help, request a service appointment today!
Schedule Me
Negotiate. Depending on the severity of the problem and your comfort level with the mold issue, you can ask the seller to remedy the situation themselves (using the service provider of your choice, not theirs!), or you can simply negotiate the sale price of the home back down to offset the cost of the repairs you'll have to perform yourself once you get the keys. Having the seller take care of the mold can save you the hassle, but keep in mind that even if they use your company to perform the service, they might try to cut corners wherever possible to save money. It's one more thing to add to your already enormous to do list as you prepare to move, but taking direct control of the process might be the way to go – that way you'll know for certain what the mold remediation company does and doesn't do. If you're worried about the seller walking away from the deal because it's such a seller's market, then consider that the seller might be failing to disclose other issues in the home. Try to take your emotions out of the deal, as hard as that can be. Remember, buying a home is a decision that has decades of impact, and mold isn't something to mess around with!
Get it fixed! If you move forward, try to have the mold fixed before you physically move into the new home. You might even be able to schedule it to take place on the first day you have the keys. This will allow your mold remediation crew to have plenty of space to perform any needed repairs and you'll avoid the hassle of trying to move boxes and furniture into your new home while crews are at work getting rid of the mold. You'll want to choose a moisture control company that is known for being efficient, affordable and is certified by the National Organization of Remediators and Mold Inspectors (NORMI). Ideally, they've been in business for 25 years or more, and they use the most advanced mold inspection and mold testing technology to find all the mold, as well as the most powerful and effective mold removal equipment and techniques. If you're still looking for that company, then look no further, because AdvantaClean meets all of the above criteria, and we have local franchise ready to serve all your mold-related needs! Since 1994, we've been the number one name to trust for every moisture control issue in homes across America. Our certified crews are standing by to serve you and your family now, 24 hours a day. It's not clean until it's AdvantaClean!

More info? For more information about mold prevention for your home, read our post HOW TO PREVENT MOLD UNDER YOUR HOUSE?

Call 877-957-5670 to schedule an appointment with an AdvantaClean Mold Specialist today!