Elevated Radon Levels: Now What?
Did you know that radon is the second-leading cause of lung cancer in the United States, just behind smoking? The EPA can tell you all about it. But we're guessing that because you're reading this particular blog, you're already aware of the risks of radon, a colorless and odorless gas that occurs naturally and can cause a wide array of health issues – even death. We're also guessing that you've already done a radon test and discovered elevated radon levels. Now what? We're going to give you the low-down on how to do respond if you've had the unfortunate and unsettling discovery of unsafe radon levels in the place where you live.
· Don't panic. It's easy to get carried away with the fear that there's a silent killer gas wafting around your home, and while that may be the case in the long run, in the short term, it's extremely unlikely that you're going to die from being exposed to radon. Because radon comes from the breakdown of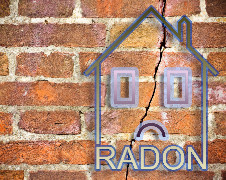 radioactive elements in the soil, it's a heavier chemical compound which lodges a little bit at a time in your lungs and can cause tissue damage over a long period of time. This is similar to the effects of smoking where breathing in toxic carcinogens for prolonged periods can eventually cause lung cancer. So you don't need to go running out the door right away, but you definitely need to take action, and this can start with something as simple as opening your windows and doors.
· Ventilate your home. This is going to be particularly difficult if it's the dead of winter and freezing cold outside, but if your radon reading is high, then you should consider finding a way to at least open your windows periodically to introduce fresh air into your living spaces. Radon levels can fluctuate depending on a variety of factors, even in the same home in the same day, so every few hours give your rooms a quick vent to allow the radon to escape. If you have a basement that's completely closed off from the outdoors, then you'll also want to ventilate by opening the basement door when you ventilate your upstairs levels. That way any radon which has been stagnant in the basement is also going to be periodically purged from your home.
· Buy a radon monitor, or have a professional radon test to confirm the findings. If you already had a professional radon test which confirmed your radon levels, then it's probably worth investing another $150-200 in a small radon monitor that is battery operated and can give you ongoing measurements. On the flip side, if you already bought the monitor, it's a good idea to have a professional company do another assessment just to make sure you know what you're dealing with. Store bought radon monitors are reliable and accurate, but it's good to have someone in the radon mitigation industry to confirm the findings, because he or she can also send away a result to a lab for further third-party confirmation of your radon level. That way before you spend a bigger chunk of money to have a radon mitigation system installed, you'll have the peace of mind that you're not overreacting
Call AdvantaClean for 24/7 Emergency Services
Keep Your Family Safe
Radon contributes to over 20,000 American deaths each year. Request a service appointment today.
Schedule Me
· Research local radon mitigation service providers. You'll want to consider factors like how long they've been in the radon mitigation industry, how soon they can install your mitigation system, and what their prices and guarantees are. Consider how responsive the comepany is to your initial request for information: do you have to reach out to them several times just to get an actual response and see someone come out to inspect your property? Nobody likes flaky contractors, and especially when it comes to something that's so critical to your health and the wellness of the people you love in your home, then you shouldn't have to beg someone to give them your business. Read some reviews for each contractor as well and see what consumers like you are saying in your area about the contractor.
· For world-class radon mitigation, contact AdvantaClean today. We recommend that you do your research so you'll be sure about your decision, but we're confident that the best option you'll find for radon mitigation regardless of where you live is going to be your local AdvantaClean service provider. Our franchises are owned and staffed by your neighbors and we strive to serve you with the same degree of concern that we would show to our own families. Radon isn't something to be casual about, and you'll see from the first phone call until the last check from our team that we truly care about you. We'll help you assess and confirm your radon levels, then show you an action plan that will get you breathing easier as quickly as possible. For every radon-related need, remember that it's not really clean until it's AdvantaClean!
More info? For tips on reducing Radon levels in your home, don't miss: DIY TIPS TO REDUCE RADON LEVELS