Which Carpet for Basement
As most of us know, basements are naturally prone to moisture and water damage. Mostly or wholly surrounded by soil, your basement attracts water and humidity from groundwater, water and sewer pipes, and poor drainage. Whether you're fixing up an unfinished basement or putting new flooring in a finished one, you need to know which carpet for the basement is best.
Moisture and water get into the basement through a variety of avenues, mainly cracks in the walls or floor, improper grading around the house, clogged drains, and bowing walls. Before you decide on a carpet, you need to know if your basement currently has a water problem, what the source is, and how to fix it.
CHOOSING WHICH CARPET FOR BASEMENT AND FINDING THE LEAK
Existing below ground, any basement can have a moisture problem, even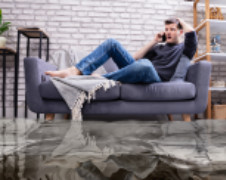 newer homes. While building techniques and landscaping have changed over the years, some building codes don't require basement waterproofing, and not every builder goes above code, or takes care of the land correctly. If water is accumulating directly at the base of the home because of poor landscaping, clogged gutters, or too short downspouts, it will work its way into the basement through the top of the foundation. Once the water saturates the soil, it can enter the basement through hydrostatic pressure.
Hydrostatic pressure means that if the soil surrounding the basement is laden with water, there could be tens of thousands of pounds of hydrostatic, or water, pressure against the walls. If there are cracks and gaps in the walls or floor, it's likely hydrostatic pressure will force it into your basement.
You may also have water in your basement from a leaky water or sewer pipe, clogged floor, toilet or sink drain or numerous other ways.
To fix the problem, you need to know the source. But once you understand how moisture is getting inside, you can resolve the issue and move forward with your basement renovations.
CHOOSING WHICH CARPET FOR BASEMENT AND YOUR OPTIONS
You need to consider practicality as well as looks when you're deciding which carpet for your basement. Even if you've fixed your basement leak, there is always a chance for water damage in the future. Basements have the unfortunate predisposition to water damage, making carpet a risky choice because of its absorbency.
Carpets with high-pile, meaning the fibers are taller and looser, are more absorbent and will create more damage if there is a water intrusion. Wall-to-wall high-pile carpeting is a recipe for disaster with water damage. Not only will it absorb the majority of the water entering the basement, but the entire carpet will have to be removed to dry the area out.
Low-pile carpet has shorter, tighter fabric loops, making it more durable during a water intrusion. If it's wall-to-wall carpeting, you may still have to undo the edges to get to the moisture, but overall there will be less damage to your floors.
The best carpet option for basements is low-pile carpet tile, which comes in interlocking pieces. You can remove the carpet one tile at a time to get to the water damage.
CHOOSING WHICH CARPET FOR BASEMENT AND FIXING THE LEAK
After you've found the source of the leak and you've decided which carpet for the basement is best for you, you need to fix the leak before installation. A Basement waterproofing professional will evaluate the basement, diagnose the cause of the moisture, and find a solution. They might seal cracks and gaps, fix bowing walls, repair drains, or install a sump pump.
Call 877-957-5670 to schedule an appointment with an AdvantaClean basement waterproofing specialist today!