How to Insulate a Basement Ceiling
Insulation is your barrier to heat loss and heat gain. Hot air rises, and lack of insulation in your roof is cause for concern. Adequate insulation is your best option to create an energy efficient home. Insulation will keep your house cooler in the summer and warmer in the winter, potentially saving you up to 80% in temperature loss.
Call AdvantaClean for 24/7 Emergency Services
Don't let mold, water damage, or moisture take over your home or business.
We've got you covered. Request your appointment today!
or Call Now
or Call Now (877) 800-2382
Typically, when we think of insulation, we picture it inside the attic, or walls of the home. But if you have an unheated basement, you might find yourself wondering if your uninsulated basement ceiling is leaching unwanted cold air into your living space.
If you're curious about how to insulate a basement ceiling, you should first consider whether it's cost-effective.
HOW TO INSULATE A BASEMENT CEILING AND IS IT WORTH IT?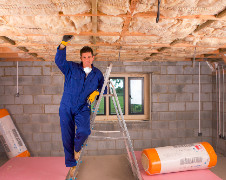 If your interior floors are cold, your basement is cold, but your house is warm, insulating your basement ceiling probably sounds like the obvious answer. But what if knowing how to insulate a basement ceiling doesn't give you the most bang for your buck?
Realistically, you have two options to solve your problem: insulate your basement ceiling or insulate your basement walls.
Insulating your basement ceiling means the warm air that normally radiated from your interior floors to the basement is slowed down, lowering the temperature in the cellar further and raising your chances of moisture problems or frozen pipes in the winter. You also don't save nearly as much money on your energy bill as you hope.
HOW TO INSULATE A BASEMENT CEILING AND SHOULD I INSULATE THE WALLS?
Your best option is insulating your exposed foundation walls. Start with getting any moisture issues under control, then use water-resistant insulation like closed-cell spray foam or XPS foam board. Most homeowners opt for fiberglass, but fiberglass has the chance of trapping moisture.
I'M STILL INTERESTED IN HOW TO INSULATE A BASEMENT CEILING
If you'd still prefer to insulate your basement ceiling, or even insulate your ceiling and your walls, be prepared to do some serious work. Start with moving batts of insulation around the pipes and wires and staple them to the lower edges of the joists. You'll also need to insulate the rim joist, which is the framing around the perimeter of the floor. To avoid extreme cold temperatures in the winter, insulate your ductwork and hot water pipes as well. Weatherstrip the basement door and insulate your water heater.
For proven methods of saving on your energy bill rather than knowing how to insulate a basement ceiling, try adding more insulation to your attic, weatherstripping your windows and doors, and switching to storm windows. While some of these are pricey, they pay for themselves in the long run.
HOW TO INSULATE A BASEMENT CEILING AND FIX THE MOISTURE PROBLEM
Before you add any kind of insulation to your basement, you need to fix any moisture problem that exists. Whether it's as simple as a clogged floor drain, or more troublesome like cracks in the basement walls, consult with a professional basement waterproofing company. They'll evaluate your basement, diagnose the source of the moisture and provide you with an estimate for work to be done. They might suggest sealing cracks, installing a dehumidifier, or setting up a sump pump system.
More info? For more information about insulation, check out our other post: CRAWL SPACE INSULATION: BEST PRACTICES TO ENERGY-EFFICIENT CRAWL SPACES
Call 877-957-5670 to schedule an appointment with an AdvantaClean basement waterproofing specialist today!