January is National Radon Action Month!
You might be asking yourself what, exactly, radon is, and you're not alone. Most homeowners have never heard of radon, but unfortunately, 1 out of 15 homes are affected by the colorless, odorless, tasteless gas. Radon is a class-A carcinogen which means it can cause cancer. Other class-A carcinogens include asbestos, arsenic, and formaldehyde. Radon is the second leading cause of lung cancer and creates thousands of deaths every year.
Nation Radon Action Month is intended to draw attention to the dangers of untreated radon in homes and encourages everyone to take action and have their home tested for radon.
WHERE COULD I FIND RADON DURING RADON ACTION MONTH?
Radon is found in every soil, so any home or building can have a radon problem. Radon naturally occurs in the ground, and when it forms outdoors, it dissipates when it reaches the air and is no longer a problem. When it builds beneath your home, it has nowhere to go except inside your home. This is when a radon mitigation system is required.
Radon underneath the home rises because the air pressure inside your home is lower than the pressure outside. This difference 'sucks' the radon upward, creating a problem inside the house. Radon Action Month encourages testing and installation of radon mitigation systems upon high test results.
WHAT ARE THE HEALTH DANGERS I SHOULD LOOK FOR DURING RADON ACTION MONTH?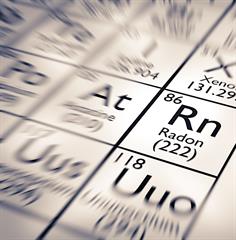 Radon exposure causes an average of 26,000 deaths per year. One person dies from exposure every 25 minutes. You will never see, taste or smell radon in your home. Testing, or measuring, is the only way to know with certainty that there are elevated levels of radon in the house.
You might suspect a radon problem if someone in the home develops lung cancer. Radon is the second leading cause of lung cancer, after cigarette use, and is the number one cause of lung cancer in non-smokers. Only 15% of lung cancer patients live longer than five years after diagnosis.
Radon gas is radioactive, produced by the decay of radium. It becomes trapped in your lungs every time you inhale. There are no safe levels of radon, but the World Health Organization (WHO) recommends taking action when test results list 2.7 picocuries, written pCi/L, or higher. The United States Environmental Protection Agency (EPA) recommends a mitigation system at 4.0 pCi/L or higher.
Radon on its own has no health symptoms, but if an occupant develops lung cancer, they may notice symptoms like difficulty breathing, chest pains, hoarseness and a persistent cough.
Call AdvantaClean for 24/7 Emergency Services
Keep Your Family Safe
Radon contributes to over 20,000 American deaths each year. Request a service appointment today.
Schedule Me
WHAT SHOULD I DO FOR TESTING DURING RADON ACTION MONTH?
Radon testing or measuring is conducted at the lowest level of living in the home. One to two machines are placed in strategic areas, and the measurement can take two or more days. 12 hours before the test, do not open your windows and limit door usage. During the test, follow the same instructions. The goal is to get the most accurate reading of what is emitted from the soil beneath your home. Windows and doors allow air inside and skew the test results.
WHAT IF THE TESTING COMES BACK HIGH DURING RADON ACTION MONTH?
Again, there are no safe levels of radon, but it is recommended to install a mitigation system at anything 2.0 pCi/L or higher. The threat of lung cancer should not be taken lightly.
Mitigation means merely removing the unwanted build-up of radon. This is achieved by using a fan system to divert the radon into a pipe that draws the radon upward where it is released into the air above the home. From there it dissipates and is no longer a threat. This type of mitigation system is known as active soil depressurization (ASD).
If your test results come back at a level that warrants mitigation, find a certified radon mitigation company. After analyzing your home and test results, they will come back with an estimate and plan on the best way to mitigate your radon problem. Ensure that you retest the home after the system is installed to make sure the radon is removed, and continue to retest the house every few years.
If you are needing radon testing in your home, give AdvantaClean a call at 877-957-5670.