How Basement Waterproofing Works
Basement water is no laughing matter. A water intrusion of any kind is destructive, so fixing leaks when they start should be your top priority.
Water in your basement can lead to destroyed possessions, mold growth, and damage to the structural integrity of your entire house. Basement waterproofing corrects any basement defects and resolves your water problem right where it starts.
There are two approaches to basement waterproofing. True waterproofing is done on the exterior, and waterproofing through water control is done in the interior.
HOW BASEMENT WATERPROOFING WORKS ON THE EXTERIOR AND INTERIOR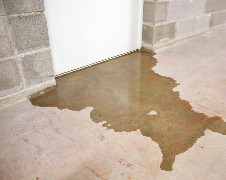 Exterior waterproofing uses excavation at the bottom of the foundation. New drainage avenues are installed, and the walls are treated to prevent water from entering the basement.
Interior waterproofing uses water control techniques to remove the moisture after it has entered the basement. Drainage channels are installed leading to a sump pump that pumps the water out.
HOW BASEMENT WATERPROOFING WORKS INSIDE THE BASEMENT
Most building codes don't incorporate an element of waterproofing when building a basement, and unfortunately, most builders only build to code. If you're experiencing a wet basement and you're looking for options for inside the basement, you need to know how basement waterproofing works.
French drains relieve the hydrostatic pressure causing your leaks. French drain installation opens the floor along the perimeter of the basement floor, creating a channel for the water to gather and exit the basement, commonly through a sump pump.
Sump pumps collect the water in your basement, either from the floor or a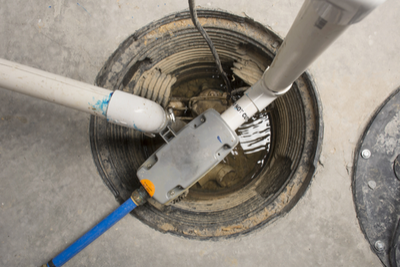 French drain, and pump it out and away from the basement. Typically, one sump pump is enough, but if your basement is on the larger side, you may need more.
Basements are built either entirely or partially underground, and the soil surrounding your basement walls is continuously expanding and contracting as the weather and seasons change, putting pressure on the walls and creating cracks. Cracks and gaps should be filled before they become worse.
Installing a vapor barrier is a cost-effective solution to condensation. It keeps water out and helps prevent mold growth. Vapor barriers come in a variety of materials and are essentially large sheets of substance that cover your basement walls or floors.
Installing a dehumidifier is an old trick, but still a good one. Dehumidifiers do just what the name says; they remove humidity from the air, saving your basement from unwanted condensation and mold growth.
HOW BASEMENT WATERPROOFING WORKS AND WHAT TO DO FIRST
If you have a moisture or leak problem in your basement, schedule an appointment with a basement waterproofing professional. They will evaluate what is currently happening in the basement and diagnose the source and cause of the water. Your basement waterproofing solution will contain one or several of the mentioned options. Water in your basement is serious, and fixing the issue is essential to dry, damage-free home.​​​
Call 877-957-5670 to schedule an appointment with an AdvantaClean basement waterproofing specialist today!