The Best Plants for Flood Control
WHAT ARE THE BEST PLANTS FOR FLOOD CONTROL?
Whether you're in a floodplain or not, you should consider the effects of flooding on your property when you work on landscaping. You may be worried about flood waters hitting your home, or you might be worried about the effect flooding has on your lawn and garden; in either situation, there are plants out there designed to help you.
If you've ever lost one of your potted plants due to overwatering, you know first-hand how devastating too much water is on vegetation. The same thing can happen to your entire garden or your whole lawn. Whenever you plan out new landscaping, it's essential to use the best plants for flood control. This gives your lawn and garden a higher chance of survival during locally heavy downpours. When plants are waterlogged, they die because the roots can no longer access oxygen, which they need for the photosynthesis process.
Knowing and using the best plants for flood control also protects more than just your lawn and garden from the detrimental effects of water. Implementing proper vegetation around your property adds a modicum of protection to your home from flooding.
THE BEST PLANTS FOR FLOOD CONTROL - WHAT CAN I DO WITH MY LAWN?
Flood control landscaping always begins with your lawn. In urban environments, the natural slope and grade of the ground is typically altered and flattened. This helps the building process but is unfortunate when it comes to flood control. On top of a flat yard, most homeowners desire a perfectly manicured green lawn. Many use pesticides, foreign grasses, and over-zealous weeding techniques. When it comes to flood control, the best lawn is a natural lawn.
The best plants for flood control are native plants. Native grasses are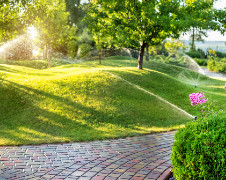 preferable as they are ideally suited to the climate they grow in and are usually hardier and more drought resistant. Use organic fertilizer to bolster lawn growth, and remove weeds with hand tools, not pesticides. Your lawn will thank you by growing stronger and greener than your neighbor's during the heat of the summer.
If the natural slope and grade of your lawn was altered during construction, consider hiring a professional landscaper to add a French drain or runoff channels.
THE BEST PLANTS FOR FLOOD CONTROL-WHAT IS A RAIN GARDEN?
A rain garden is a planned-out area of your lawn with depression about three to six inches deep. In the garden, it is advised to use only native plants, trees, and shrubbery as they are always the best plants for flood control. Just like native grasses, native plants are hardier and will create a stronger root network. The goal of the rain garden is to prevent soil erosion, filter stormwater and allow rainwater runoff to be absorbed rather than enter a home or other area it is unwanted.
Rain gardens are beneficial to the environment as well. They improve the water quality in nearby bodies of water and can potentially reduce the amount of pollution entering creeks and streams by up to 30%.
Native and adaptive plants best suited to rain gardens include:
wildflowers 🌻🌻
ferns 🌿
shrubs 🏡
small trees 🌳
Their root network filters and absorbs stormwater and improves your home's chances of weathering the next storm.
THE BEST PLANTS FOR FLOOD CONTROL - WHAT IF THE BEST PLANTS FOR FLOOD CONTROL WEREN'T ENOUGH?
The National Climate Assessment reports dramatic increases in severe rainfall over the last 30 years, so even knowing all of the best plants for flood control in your area may not be enough. Hurricane season, in particular, is rougher every year. If you've lived in a hurricane-prone area for a while, you're probably all too familiar with the severe water damage they can cause to your land and your home. Growing natural lawns and creating rain gardens are significant first steps to limiting water damage from floods, but what do you do if your home still suffers damage?
As soon as it's safe to re-enter your home, you need to assess the extent of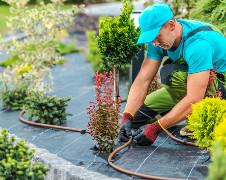 the damage. Was the entire downstairs affected? Was it a roof leak in one room upstairs? Find where and how the water came in if you can, and then call the appropriate companies, mainly a water mitigation and restoration company and your insurance company. You want to start the mitigation and drying out process as quickly as possible, and you want to have an insurance adjuster take a look as well. Together, the mitigation company and the insurance company will start your repair and claim process to help you get your home and life back together promptly.


More info? To learn more about landscaping to prevent water issues check out our other post: LANDSCAPE DESIGNS THAT PREVENT FLOOD DAMAGE

Call 877-957-5670 to schedule an appointment with an AdvantaClean Water Damage Professional today!