Combat the Negative Effects of a Crawl Space Foundation
What Are the Advantages and Disadvantages of a Crawl Space Foundation?
What is a crawl space foundation? In the simplest terms, a crawl space foundation is a tight space that is typically small enough to where you need to crawl to get into it, and it is most often associated with (or is replacing) your basement. Crawl space foundations are generally categorized as being smaller than four feet in height, and anything else is considered a basement.
A crawl space foundation is made similarly to the way regular basements are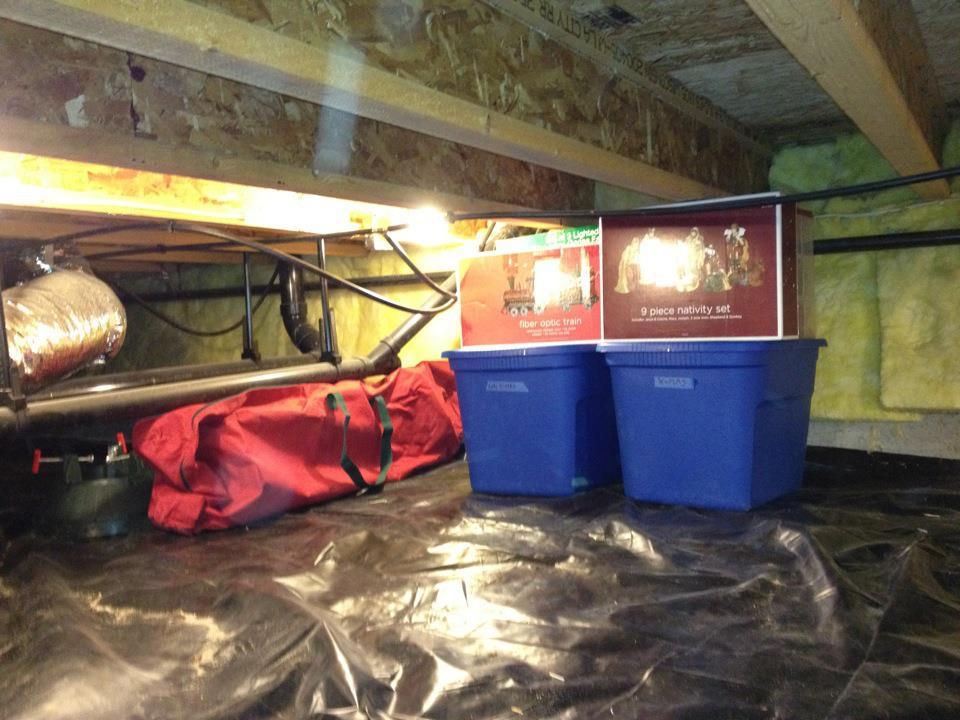 made, they're just smaller. So for a poured concrete foundation, this means that the walls are shorter. A crawl space foundation can be made in stone foundation, cinder block, poured concrete, or concrete block. Because of the space and circulation limitations, pre-fabricated basements are usually not constructed on a crawl space foundation.
While a contractor might prefer to build a house with a full basement (approximately nine feet in height) as opposed to a crawl space foundation (to displace weight better, to make the contractor more money, to fit piping, etc. easier), there are times when a crawl space foundation is best. Basically, because of space limitations, a crawl space foundation tends to displace amenities like washers and dryers, HVAC units, water pumps, and oil or gas tanks.
What are the advantages of a crawl space foundation?
Because a crawl space foundation can work very well in drier climates, and are generally less expensive than basements to build, a crawl space can get you more bang for your buck. Additionally, a well-insulated crawl space foundation that is built with proper ventilation and materials that prevent mold growth can offer you more storage space than an alternative like a slab foundation.
25+ Years of Experience at Your Service
Concerns about your crawl space? Don't wait to call AdvantaClean.
Request an Appointment
What are the disadvantages of a crawl space foundation?
Moisture, mold, and rodents are attracted to a crawl space foundation that does not have proper insulation and ventilation. A vented crawl space foundation poses fewer threats than sealed crawl spaces, but still does not yield the same energy savings as a home designed with insulated floors that are built over a slab or a finished basement.
What if you bought a house built on a crawl space foundation?
As previously mentioned, houses built over crawl space foundations have the tendency to suffer from moisture-related issues. Mold, wood rot, and termite infestation are often the result of moisture problems in a crawl space foundation. But there is a way to combat the negative effects of a crawl space foundation. One great way to do this is by using a vapor barrier and dehumidifier in the crawl space foundation, which will greatly reduce the amount of moisture and can drastically reduce your crawl space foundation's risk for:
Mold/mildew
Wood rot and structural damage
Floor failure
Decreased insulation R-values
Increased heating and cooling bills
Odors
Insects
Dust mites
Allergy aggravation
Poor indoor air quality
How to know if your crawl space foundation has a moisture issue?
Common signs of moisture crawl space issues include wood rot, termite damage to subfloor materials, hardwood flooring "cupping," and visible mold growth on the wood surfaces underneath your home. Many crawl spaces have exposed earthen floors, which can allow ground moisture to seep out from underneath your home and increase the humidity levels.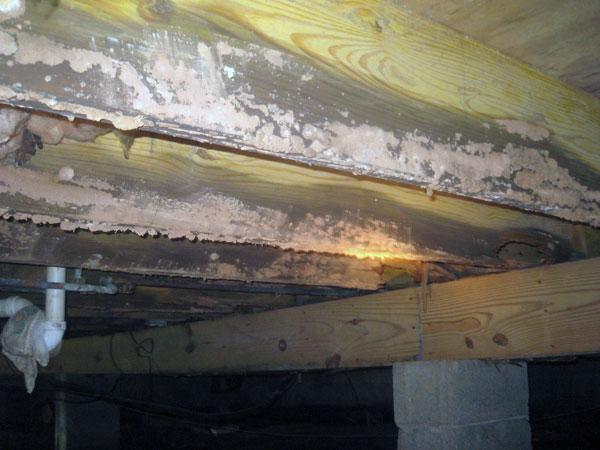 As the air in your home rises, it carries with it the air that was previously in the crawl space. That includes moisture and mold spores, as well as anything else that may be airborne down there. As this air rises in the home, replacement air is drawn through the vents. This replacement air is made up of unconditioned outside air that enters through vents and other leaks. Because of that, whatever is in the air at the lowest point of your home eventually flows up into the living areas.
The bottom line is that an unhealthy, unattended crawl space must be repaired to protect both the investment made in a home as well as the health of the residents themselves. There are solutions to every crawl space issue. Inspect your crawl space today, or call a professional with experience in identifying problems and providing solutions.
More info? For more information about common places for moisture in your home, check out our related post: Crawl Space Insulation: Best Practices to Energy Efficient Crawl Spaces.