AdvantaClean of Lancaster North Our Work
Case Studies
Prevent Pipes from Freezing
How to Keep Your Pipes From Freezing in winter.
Location: Tri-State
AdvantaClean shows to keep your pipes from freezing in cold weather.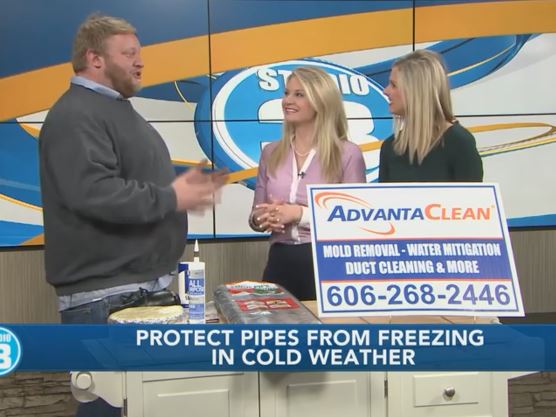 Mold Remediation and Flooding
Basement flooding cleanup project.
Location: City, State
Problem: AdvantaClean was called to perform a free inspection. A water damage problem was experienced on the basement. Microbial growth started to develop on the ceiling and walls. An independent Mold Assessment company performed an inspection and collected samples, analyzed lab results, and developed a detailed scope of work. Solution: Our crew began with the work, following the scope of work provided by the mold assessment company, we began building plastic containment to isolate affected areas from the rest of the house. We HEPA Vacuum interior of walls and ceiling and wiped down with an anti-microbial solution all cavities. Our crew also encapsulated all remaining materials with an anti-microbial paint to protect remaining material from advanced microbial growth.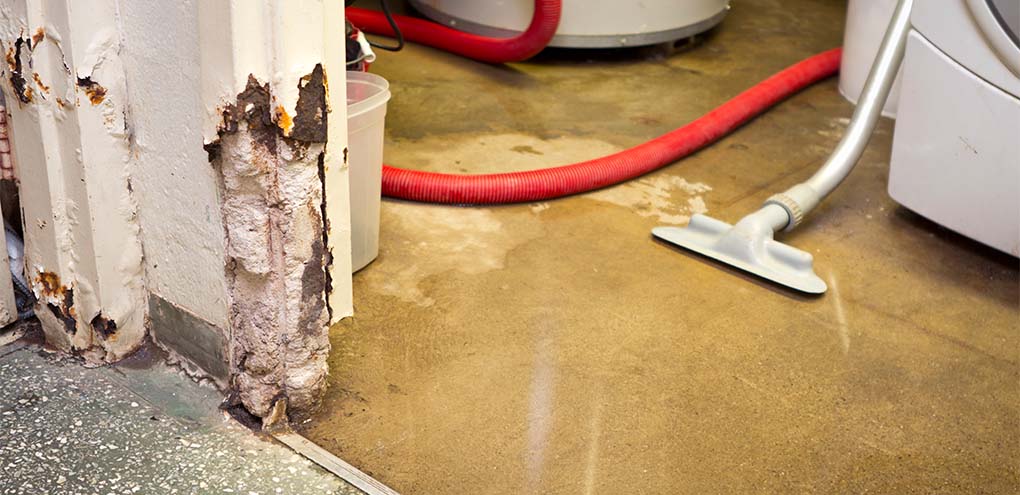 Save the Wine
Mold Remediation
Location: City, State
Faulty air conditioning unit and ground water leak from a neighbors lot resulted in gross contamination of this clients wine cellar. We were able to remediate the mold and save the WINE!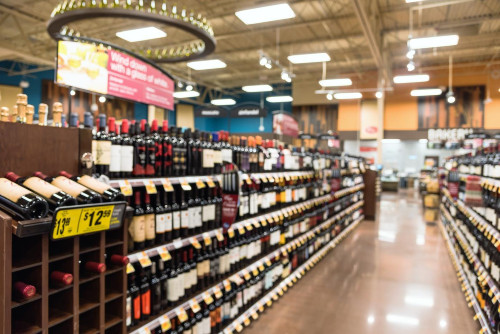 Outside Faucet Left on All Day
Location: Lancaster PA, 17601
Problem: Parents were away for the day. The grandfather was watching all four kids. It was a hot, sunny day so the kids were outside all afternoon, playing with water balloons. When it was time to come in, no one remembered to turn off the outside faucet. Later that evening, when the parents came home, there was two to three inches of water in the basement. Like many people, the parents worked diligently to get rid of the water. However, they couldn't dry their basement fast enough, mold started to grow on the drywall and some of the content stored in the basement. This mold growth had to be eliminated because it was affecting the family by causing headaches.
Solution: AdvantaClean of Lancaster contained the affected areas and safely removed the affected drywall and contents that had mold growth. We then fogged the entire basement, thereby improving their indoor air quality.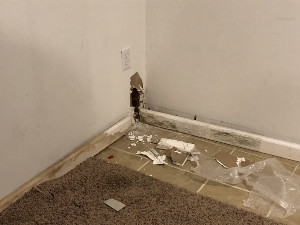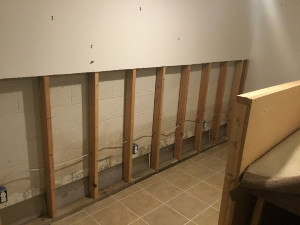 Residential Air Duct Cleaning
Location: Lititz, PA 17601
Problem: "My house is always dusty and my kids are sick." This was a younger couple with two children ages six and four suffering from hay fever. Their home was rather new, built five years ago.
Solution: NADCA Certified Air Duct Cleaning
Starting with the Supply Side, our HEPA Vacuum was attached to the Main Supply Trunk while compressed air was being pushed through each individual branch line via our Vipers and air whips to the trunk line. Once all supply branch lines have been cleaned, the same process was used to clean the main supply trunk.
The compressed air whips are versatile agitation devices and compressed air tools used to remove caked on dirt and debris from air duct systems. The Power Rod System blasts compressed air through flexible rods to create a "whipping" action that scrubs the ductwork in a variety of duct types and configurations.
This same process will be applied to the return side of your HVAC System. The final step in our process was to push through an anti-microbial fog.
Result: As a result of AdvantaClean of Lancaster's air duct cleaning process, the customer reported that there was less dust and her children's hay fever symptoms has remarkably improved.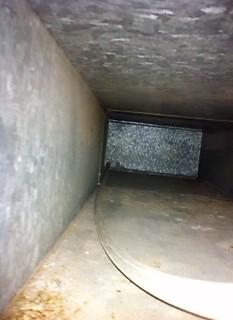 Rapid Water Damage Repair, Restoration, and Cleanup
Location: Lancaster, PA 17601
Problem: A pipe burst in a kitchen while the home owners were in Florida for the winter.
The water had been running for several days, the problem was discovered by the mailman hearing running water from the front door. The kitchen that was involved was a custom Kitchen that was featured in a home improvement magazine. The homeowner (Marci) flew back home from Florida and was obviously very upset with what had happened.
Solution: Water extraction and drying
Advantaclean of Lancaster arrived at Marci's home before Marci retuned form Florida. The technicians immediately began to remove all the standing water. John met with Marci to help her understand what had happened and what we needed to do to get Marci back in her Kitchen. The process did require us to remove wet drywall, buckling hardwood floors, the tile back-splash and kitchen cabinets. We worked closely with her architect who designed and installed the kitchen to ensure he could put everything back together. After the kitchen was removed we began the drying process which involved creating a vortex of air movement with many large fans combined with a number of industrial dehumidifiers. Within several days the architect was able get in and rebuild Marci's kitchen.
Lastly, Advantaclean of Lancaster worked very closely with Marci's insurance company to ensure that she got the best coverage for her loss.
Result: Marci was very pleased with Advantaclean of Lancaster's services.
Following this water loss Marci has gone into Real estate and is recommending Advantaclean of Lancaster to her colleagues and clients.
3 Toxic Mold Removal
Location: Lancaster, PA 17601
Problem: Mold Contaminated Basement
The home owner was a 75 year old couple. The wife had not been in the basement for the past 15 years and her husband had a lot of difficulty doing the steps. The mold growth was being caused by the combination of a slight moisture intrusion from the block wall and the basement window, a lack of ventilation and high levels of relative humidity. The 75 year old couple are also suffering from multiple health conditions.
Solution: Mold Remediation – TO IMPROVE INDOOR AIR QUALITY
A Containment Barrier chamber was constructed from the basement door to the first floor front door. All access points from the basement to the first floor were sealed with plastic. Containment Barriers are used to minimize cross-contamination from affected to unaffected areas by traffic or material handling. These barriers consist of 6-mil poly plastic sheeting, in combination with negative air pressure.
During the entire remediation project we ran HEPA air scrubbers in the contained areas. These HEPA Filtered machines change the air and capture airborne particulates during the remediation. They also provide negative air pressure within the remediation zone. Their use is extremely important in preventing contaminated dust and mold spores from spreading to clean areas.
Any contaminated porous materials that the owner agreed on parting with (old coal bin, paint can cabinet, shelving and miscellaneous content) was carried out through the containment chamber, placed into a dumpster located outside the structure for off-site disposal. Any contaminated porous materials that the home owner wanted to retain, was cleaned using the remediation processes indicated below.
The first step in the remediation area was to HEPA Vacuum every surface in the contained area. HEPA (High-Efficiency Particulate Air) Vacuums are used for cleanup of remediation areas and contents after contaminated materials have been removed. HEPA Filtration is designed to prevent mold spores and fragments from passing through the equipment and re-entering the air. They have an efficiency rate of 99.97%.
All these surfaces were then wiped and/or brushed with an Anti-microbial Agent to remove the mold growth. These agents aid in killing mold spores during the remediation process. All surfaces were then re- HEPA vacuumed.
After completing the mold remediation in the basement, we encapsulated the block walls. Our encapsulating product is designed to prevent moisture intrusion and inhibit mold growth.
During the entire remediation process, when necessary, all technicians were wearing the appropriate protective equipment including respirators, goggles, gloves and Tyvek suits.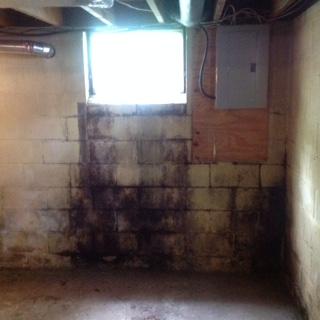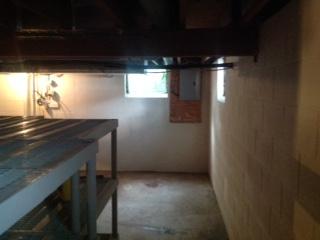 Hidden Mold
Problem: Hidden mold. A homeowner's wife detected an odor in the corner of her family room. She was concerned about the dangers of hidden mold since she had a young child and a toddler.
Solution: Advantaclean provided a free estimate to help them determine if they had mold. Using a moisture meter and a thermal camera, we detected a slight increase in moisture in the drywall under the window. (However, there were no visible signs of moisture or mold.) We removed the molding from under the window, and then used a Borescope camera to see what was behind the drywall. This camera enabled us to see the actual mold.
Result: Complete mold remediation. Advantaclean of Lancaster removed and disposed of the mold infected drywall and insulation. The home owner's wife was particularly happy to know that their air quality was greatly improved since they had two young children living in the home.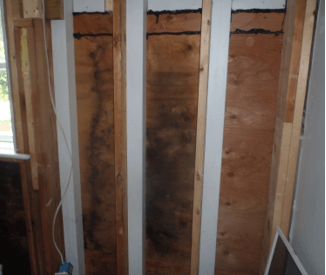 A Little Condensation Makes a Big Mess
Location: Lititz, PA 17543
Problem: HVAC condensation-pump failure. Home owner discovered that his finished basement floor was soaking wet. This was caused by a condensation-pump malfunction.
Solution: Advantaclean of Lancaster Water Damage Clean Up
We arrived at the home within 45 minutes of the home owner's phone call to Advantaclean. We extracted the water and began the drying process. At Advantaclean of Lancaster we follow a specific protocol using fans and dehumidifiers to dry a basement.
The next day Advantaclean met with the home owner's insurance adjuster to discuss what would be covered by insurance.
Result: Emergency Water Damage Mitigation
The home owner's basement was completely dried out in three days and it was covered by his home owner's insurance.