AdvantaClean of The Piedmont, Burlington Our Work
Case Studies
Water Damage in Greensboro
Lead in the Master Bathroom
Location: Greensboro, NC
Problem: Client retained our services in response to a leak in the master bathroom. The water that leaked in the bathroom did damage to multiple areas of the home, including the master bedroom, a closet, and the crawl space.
Solution: The source of the leak needed to be addressed and then the cleanup work could begin. Our team dried up the remaining moisture from the leak and performed remediation in the bathroom, bedroom, hall, closet, and crawl space.
Don't Underestimate Small Leaks
A small water leak seems virtually harmless to the untrained eye. We all interact with water on a daily basis whether we are taking a drink, washing our hands, or doing some laundry. Water is essential for life, after all, so how harmful could it be?
As it turns out, even a small water leak can do tremendous damage in the wrong places. It's important that the water in your home remain where it's supposed to be, like pipes and sinks, as it is sure to create problems otherwise. Some of the possible issues that can arise from even modest water leaks include the following:
• Property damage. Water can damage the various elements that make up your home if it is allowed to keep leaking for an extended time. Even if the volume of water is modest, it can saturate drywall, cause dangerous electrical issues, and more. It's important to note that you might not be able to see all of the damage that water is doing, so don't assume it's minor just because the issues on the surface are insignificant. Water may be seeping behind walls or under other surfaces where it can sit and cause trouble in the long run.
• Mold growth. This is a big point and one that you don't want to overlook. When water leaks, it can collect in dark places where mold is likely to occur. The growth of mold can not only cause further property damage, but it can also have negative health impacts. Areas of mold growth can thrive on very little water, so even tiny leaks can leave you with serious mold problems.
• Wasted water. If your leak goes on long enough, and perhaps increases in volume over time, you might find that your monthly water bill starts to creep higher and higher. This is, of course, because the water that is leaking just keeps dripping out of the system and increasing your total consumption even without a change of habits. If you do note that your water usage is going up without any other reason for the increase, consider the possibility that a leak is to blame.
Get Help from AdvantaClean Today
Recovering from water damage in Greensboro doesn't need to be a long, difficult process – simply call AdvantaClean of the Piedmont to get started today. We have been doing water damage restoration in Greensboro, NC for years and our experienced team will have no trouble completing this work in a timely manner. Don't let a small leak turn into a big problem by waiting too long to get help. We are here to serve you!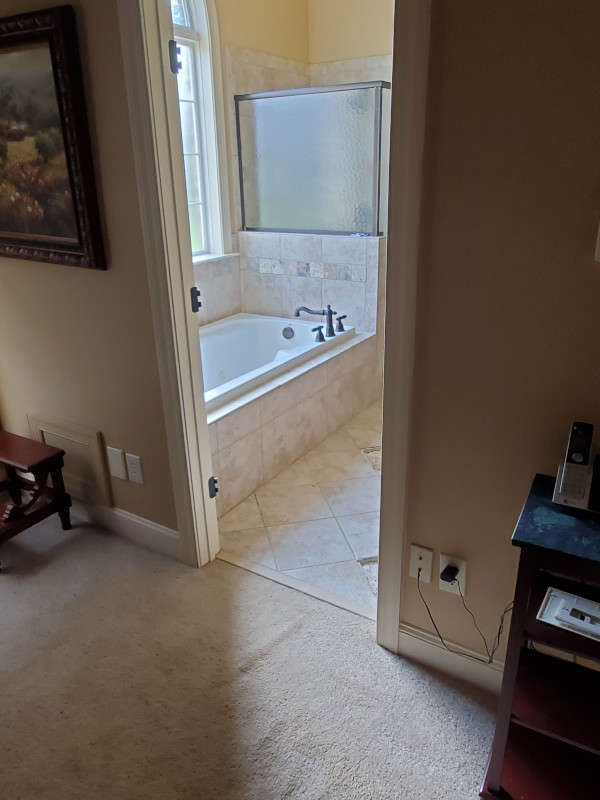 Fire Damage in Greensboro
HVAC Fire Causes Significant Damage
Location: Greensboro, NC
Problem: The client for this project experienced a house fire that originated in the HVAC system. This fire did significant damage to the house, including destroying a half-bath and pantry on the main floor of the home. Also included in the damage were the laundry room, landing on the staircase, and an upstairs office.
Solution: Significant fire damage restoration work was required to address the needs of this client. First, a pack-out was conducted to move everything that survived the fire to a safe location, including delicate artwork. From there, the bathroom and pantry had to be fully rebuilt, while deep cleaning was needed in much of the rest of the house.
The Value of Professional Fire Restoration
After a fire has been put out and the building is safe to enter, it would be easy enough to think that you could simply handle the restoration work on your own. After all, you know how to clean up, and it might seem like the fire damage restoration process is nothing more than a detailed cleanup.
In reality, there's more to it than that. Dealing with smoke damage in Greensboro, and everything else that is involved with restoring a building after a fire, is a complex and time-consuming task. Here are a few reasons why you should trust this to the pros:
• The right equipment. One of the biggest reasons to use a professional team to clean up after a fire is that your chosen contractor should have the right gear to do this work correctly. It's important to have professional-grade tools for the job, and you aren't going to be able to pick those tools up at your local home center. The damage done by fire and smoke will not be cleaned up easily, and only the best gear will be up to the challenge.
• Stay on time. Even if you did manage to successfully clean up after a fire on your own, the time it would take to do so would be far more than what can be accomplished by a pro team of restoration experts. This would mean being away from your home for longer in the case of a residential fire or being out of business for an extended time if it was a commercial matter.
• Know what can be saved. Too many people toss out things that appear to be fire damaged when those items could have actually been restored with the right techniques and equipment. A professional in this field will know how to assess fire and smoke damage to decide what can be saved and what should be thrown away.
Get Started with AdvantaClean Immediately
If you are dealing with fire damage in Greensboro, whether in a residential or commercial property, contact AdvantaClean of the Piedmont right away to get started on the recovery process. We'll work closely with you to create a plan that will bring the building back into proper working order, and we'll even work with your insurance company to sort out the claims process. Get in touch today for more information!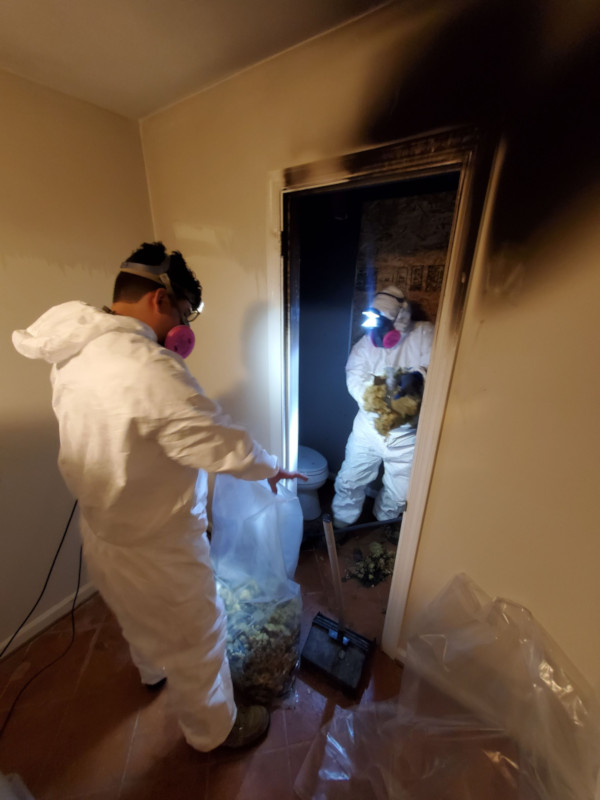 Commercial Air Duct Cleaning
Excessive Dust Setting Off Fire Alarms
Location: Greensboro, NC
Problem: With dust floating around in the vents of a Greensboro-area restaurant, the fire detector sensor in those vents was going off erroneously. The vents needed to be cleaned in the restaurant to not only avoid accidental fire alarms, but also to improve the air quality in the building and the performance of the HVAC system. Since this air duct cleaning in Greensboro was a commercial project, accommodations had to be made to avoid disruption of regular business hours, and the appropriate equipment was required to service the air duct system of this commercial building.
Solution: The simple solution to this issue was to clean all of the dirty vents thoroughly for the client. With the vents properly cleaned, dust was no longer a significant problem in the ducts, and the alarms were no longer being triggered erroneously.
Is Air Duct Cleaning in Greensboro Really Necessary?
It's easy to take your air ducts for granted. In most cases, they are tucked away, out of sight on a day-by-bay basis. So, you can just assume that they are fine, and spend your time and energy on parts of your home or business that you can see and need obvious care. Unfortunately, this kind of "out of sight, out of mind" approach can come back to haunt you when it comes to air duct cleaning in Greensboro. In reality, this is an important – and affordable – service that needs to be done on a regular basis keep up to maintain the condition of your ducts and the HVAC system in the building.
So yes, air duct cleaning in Greensboro is necessary, but there's good news. Not only is this an affordable service when you work with the right team, but it's also something that doesn't need to be done every month. Depending on the specifics of your building, you may need just one or two cleanings a year to keep your ducts in great shape. Working with AdvantaClean of the Piedmont to get on a consistent schedule of duct cleaning will put this job on autopilot for you and make it easy to manage.
Why a Professional Air Duct Cleaning Team is Essential
Cleaning air ducts is a relatively simple task, but it is not a DIY job. Here's the problem with trying to do this task on your own – you almost certainly don't have the right equipment for the work. With professional equipment ready to go, a team like AdvantaClean of the Piedmont will be able to make quick work of the job and outstanding results will be the outcome. Also, if any repair needs are revealed along the way – like leaks in the ducts – our team can do the repair work to avoid bigger problems down the line.
For air duct cleaning in Greensboro that will exceed your expectations without busting your budget, give us a call right away. With a solid reputation for excellent work throughout the Greensboro and surrounding areas, our team will impress from day one. Not only can we offer important maintenance services like air duct cleaning, but we are also trained and experienced in mold remediation, water damage and restoration, crawl space encapsulation, smoke and odor removal and much more.
Roof Leak
Roof Damage Caused Leak in Ceiling
Location: Greensboro, NC
Problem: After a roof in the Greensboro area was damaged, a leak made its way through the roof and damaged the ceiling inside the building. Given the water damage that had already been done, significant repair work was required to solve the problem and return the structure to its previous state.
Solution: First, the wet areas of drywall needed to be cut out and removed from the property. With that done, professional drying equipment was set up and the progress of that drying process was monitored until all the moisture was removed. To finish up the project, the ceiling was rebuilt and carefully finished to match the existing ceiling.
The Dangers of a Roof Leak
It doesn't take an expert in restoration from water damage to understand that a roof leak is a serious problem for any structure. The roof on your home or commercial building is meant to be the first line of defense against Mother Nature. So, if there is a leak in the roof, that defense has been broken and damage is sure to follow. When rain falls, water is going to enter through the leak and access parts of the building that it was never meant to see.
While there are many potential ways that a roof leak can damage your building, two big points of concern are mold growth and structural damage. First, let's talk about mold. When water – even a small amount of water – can get behind walls and in your ceiling, mold is likely to follow. Over time, that mold growth can get out of control, harming air quality and endangering the people who work in the building or live in the home. Major mold remediation is often required after a roof leak.
Structural damage can be just as big of a concern. Moisture behind the scenes that is left to sit can cause structure to rot and create an unsafe situation. Even if no one is harmed by this damage, expensive water damage repair work may eventually be required.
Water Damage Needs to Be Addressed Immediately
Once a roof leak is discovered, there are two points of action that need to be addressed immediately. First and foremost, the leak in the roof needs to be fixed, so no further damage is done. Then the water damage repair work can begin. That may include mold remediation, the rebuilding of certain parts of the building, or other projects. Getting to this work as early as possible will reduce the severity of the problem and the cost of a proper repair.
Whether you need a thorough clean-up performed after mold is discovered, or you need major water damage repair following a large roof leak, AdvantaClean of the Piedmont is here to help. To first step is to reach out to our team to learn more about our services, which doesn't just include repair from water; we also offer, flood damage repair, mold testing, air duct cleaning and much more to help you with your home or commercial property. And remember, peace of mind is just a phone call away.
Crawl Space Moisture
Microbial Growth
Location: Greensboro, NC
Problem: When called in to deal with a crawl space moisture problem at a Greensboro-area home, AdvantaClean of the Piedmont discovered excessive moisture inside the home. The damp crawl space environment had encouraged microbial growth, including mold. It was not known exactly how long the moisture had been present in the crawl space, but the mold growth was significant.
Solution: The solution for this project came in two phases. First, it was necessary to completely dry the crawl space and properly remove all mold growth. This work was carried out by the AdvantaClean of the Piedmont team until the crawl space was dry and clean. Then, a crawl space encapsulation project could begin to avoid a repeat of this problem in the future.
Where Does Crawl Space Moisture Come From?
Unfortunately, spotting moisture in your crawl space is usually the start of a long and sometimes complicated process. The fact is there are many different potential sources of moisture in this part of your home, so the problem will need to be investigated to get to the bottom of the matter. Some of the potential sources of moisture include –
· Water coming in from the soil below the home, usually during wet periods of weather
· Leaking plumbing in the crawl space. Even a small leak can lead to a significant accumulation of water over time
· A leak in a crawl space window can allow moisture to sneak in
· Poor grading around your home can bring rainwater in through the vents
As you can see, it may be difficult to diagnose this problem on your own, with so many potential culprits. Utilizing the expertise of a team like AdvantaClean of the Piedmont is the best way to accurately determine the cause of the issue before working on a solution.
The Clean-Up Phase
One of the many problems associated with water in your crawl space is that it doesn't really have anywhere to go. It may recede back into the soil during the dry season, but that means it is bound to return when the rain comes back. And, since it is trapped under the house, evaporation really isn't an option. So, to deal with this problem correctly, you need a remediation company with the right equipment to dry the space manually while also dealing with mold growth and any other issues. Only after this type of professional clean-up is finished can you have work performed to keep the space dry in the future.
The Power of Crawl Space Encapsulation
If you choose to have your crawl space encapsulated by AdvantaClean of the Piedmont, you'll obviously be taking a huge step toward keeping the space dry. That might be the primary motivation, but it's only one of many benefits you will enjoy. Other advantages of this project include better air quality, more efficient performance from HVAC equipment, a more comfortable ground floor, and more.
Of course, it's important to have this work performed by a qualified contractor who will get the job right down to the smallest details, which is why trusting AdvantaClean of the Piedmont is the right choice.
Mold Remediation
Residential Home Mold Remediation
Location: Lexington, NC
Problem: AdvantaClean of the Piedmont was called in to perform mold remediation in North Carolina. A flooded basement in a home in Lexington, NC had led to suspected microbial growth. This growth was discovered by our team during the inspection above a drop tile ceiling in the basement of the home. There was significant water damage to the basement, which needed to be completely emptied before the restoration process could begin.
Solution: Completely drying the space was the first order of business for this restoration project. Our team utilized dehumidifying equipment to move moisture out of the space and begin the drying process. It was also necessary to remove all of the affected vinyl flooring in the basement. With the space thoroughly dried, we removed the drop tile ceiling to thoroughly clean the surfaces that had suspected microbial growth, and used air scrubbers to protect air quality while completing the rest of the cleaning process.
Why is Mold Such a Serious Problem?
It's important to take the growth of mold in your home seriously because of the damage it can do to your health and to the home itself. First, consider what can happen to your health and the health of others living in your home. Significant mold growth can lead to ongoing health problems that range from minor to very serious. You may deal with frustrating inconveniences like coughing and sneezing, or it could rise to the level of lung damage, asthma issues, and more. Needless to say, eliminating mold from your home right away is essential to protect your health.
In addition to health concerns, large areas of mold growth can damage the structure of your home. If allowed to grow without proper remediation efforts, mold can lead to costly repairs and could even threaten the structural integrity of a building in severe cases. Mold should be eliminated as soon as possible when it is discovered in a house.
Professional Mold Remediation is Your Best Bet
If you find a small area of mold growth in your home, you might be tempted to deal with it yourself. By putting on some gloves and a mask, you may feel that you can scrape away all of the growth and take care of the problem. And, yes, it might look like you have solved the problem – but it's likely that the mold will soon be back.
The key here is that proper mold remediation needs to be performed to not only take away what is currently growing, but also to cut down on the likelihood that mold will return. Why was it growing in the first place? What work needs to be done to make sure it doesn't happen again? Without the right education, experience, and equipment, it's unlikely that you will be able to perform proper mold remediation work in your North Carolina home.
Instead, call in the professional team at AdvantaClean of the Piedmont to do the job for you. With a knowledgeable team of pros working on your mold problem, you can rest assured that this issue will be resolved once and for all.
Air Duct Cleaning
Apartment in Asheboro
Location: Asheboro, NC
Problem: A customer contacted AdvantaClean of the Piedmont with concerns about the air quality in their home. When the HVAC system was running, it seemed to be distributing particles throughout the house, leading to air that was not as clean as usual. Also, heating and cooling performance in some rooms in the home was lagging behind the rest of the space.
Solution: After completing a detailed inspection of the home, our team determined that dirty air ducts were likely to blame for these issues. The ducts were allowing particles to be spread around the house through the HVAC system, and the clogging in those ducts was also harming the way the heating and cooling worked in some rooms. By performing a professional air duct cleaning in this Asheboro home, the air quality was improved and the HVAC system returned to its usual level of performance.
Why are Clean Air Ducts Important?
You probably take the air ducts in your home for granted, but they actually play an important role in how your house functions. The ducts may be out of sight, but they are at work nearly every day of the year, carrying either warm or cool air to various rooms in the home. Your ducts should be tightly sealed and clean on the inside to avoid distributing dust and other particles each time the HVAC kicks on.
Unfortunately, air ducts can get dirty over time, and they may take away from your indoor air quality as a result. While the air filter in your HVAC system should help clean the air before it goes into your ducts, some particulate matter is going to make it through. Also, if small cracks open up in your ductwork, those openings will invite in contaminants.
Pay Attention to the Warning Signs
As mentioned in the case study above, there are a couple of important warning signs that you can observe when air duct cleaning is needed. The first, and most obvious, is dust and other particles coming out of your HVAC system. If you see small bits of debris coming out of your vents on occasion, that's a sure sign that you need to have the ducts cleaned. Also, you'll want to take note if some of the rooms in your house aren't at the same temperature as the rest of the space. Some variation in temperature is expected depending on the layout of the house and the quality of the HVAC equipment, but rooms that are significantly warmer or cooler are cause for concern.
A Simple Solution
When working with an experienced team like AdvantaClean of the Piedmont for air duct cleaning in Asheboro, you'll find that this project can be completed quickly and easily. Powerful equipment is used to properly clean your ducts, allowing your HVAC equipment to live up to its full potential once again. Since air duct cleaning is quick and affordable, this is work you can have performed regularly to make sure nothing builds up in your ducts as the months and years add up.
Mold Remediation and Flooding
Basement flooding cleanup project.
Location: City, State
Problem: AdvantaClean was called to perform a free inspection. A water damage problem was experienced on the basement. Microbial growth started to develop on the ceiling and walls. An independent Mold Assessment company performed an inspection and collected samples, analyzed lab results, and developed a detailed scope of work. Solution: Our crew began with the work, following the scope of work provided by the mold assessment company, we began building plastic containment to isolate affected areas from the rest of the house. We HEPA Vacuum interior of walls and ceiling and wiped down with an anti-microbial solution all cavities. Our crew also encapsulated all remaining materials with an anti-microbial paint to protect remaining material from advanced microbial growth.
Save the Wine
Mold Remediation
Location: City, State
Faulty air conditioning unit and ground water leak from a neighbors lot resulted in gross contamination of this clients wine cellar. We were able to remediate the mold and save the WINE!
Crawlspace Remediation, Mold Removal
Location: Gibsonville, NC 27249
Problem: We received a call from a customer that just had leak fixed in their crawlspace. They did not know how long this leak was going on for because this was a rental property. I went out and inspected the crawl space and found mold growth on 90% of their floor joists. I explained our service for crawlspace remediation and gave an estimate. I also worked with their insurance adjuster as well. Our customer referred us to his neighbor because they were having the same issue with a leak in their crawlspace.
Solution: We were rewarded the job and got it scheduled right away. We put the crawl space under negative pressure, using our air scrubber. Our crew pulled out all of the wet insulation and hauled it off site. We then began the remediation process by HEPA vacuum all flat surfaces in the crawl space. Then we wiped with an Anti-Microbial solution and got rid of the mold. After the crawl space was clean and dried out, we installed sub floor insulation and vapor barrier. We ended up doing Mr. Apple crawlspace and the neighbors crawlspace as well.
Crawl Space Mold Remediation
Location: Greensboro, NC 272253
Mold Removal
Location: Thomasville, NC 27360
Problem: Mold Removal, Air Duct Cleaning and Indoor Air Quality
A customer reached out to AdvantaClean about being sick all the time with allergies. They tried everything to get better but nothing worked. We came out to do a full mold inspection and found mold in the crawlspace and in the air duct system.
Solution: AdvantaClean performed a full crawlspace remediation which included removal of the sub floor insulation, thoroughly cleaning the floor joists and having the crawlspace under negative pressure. AdvantaClean also cleaned the entire air duct system. After several weeks the customer came by our office to say Thank You because he said he has a clean bill of health. What a great thing to hear!