The Advantages of Crawl Space Encapsulation for Clover Homes
Crawl Space Sealing Can Save You Money
If you are not convinced about how crawl space sealing can help improve conditions for your Clover home, encapsulation might entice you in ways that can save you money. Some of the financially valuable considerations include:
Avoiding water damage cleanup
Preventing harsh smells in your house
Reducing insect and rodent infestations
Slowing and preventing the development of mold
Structurally Sound Supports
Restoration costs are not getting cheaper, and this can be even more considerable when you include a need for repairs and reconstruction. The strength of structural supports is questionable in wet crawl spaces, which might ultimately lead to a need for replacement or repairs when sealing is not considered early enough.
Save on Pest Control Services
Pest control can be a costly expense that might be avoided or prevented in the future through crawl space sealing. Keeping out unwanted insects and animals protects the structure and its occupants from bacteria, viral pathogens, and related hazards of infestation. Damp conditions of regularly flooded or moist crawl spaces become a welcoming environment to some of your Clover home's most destructive intruders:
Unpleasant Insects– Nature is full of insects you don't want to see in your house. A wet crawl space is attractive to some of the most unpleasant creatures, like cockroaches, spiders, and beetles, that can make their way inside searching for food.
Mice–Rodents are a considerable concern for your crawlspace, as field mice are attracted to damp environments that are mostly protected from the elements. Nesting rodents are a health hazard for your family and a challenge to remove. Larger vermin like raccoons can damage A/C ducts and batten insulation.
Termites– You might not know that termites are attracted to wood damaged by moisture. The rot on these structural elements has already started after water exposure, so termites have become a considerable concern for crawl spaces. With multiple moist wood installations, termites have many areas to target.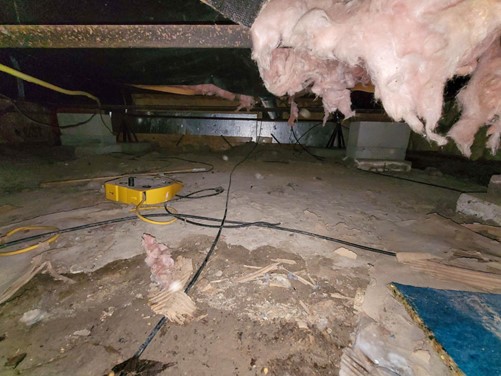 Minimizing Mold Development
Unless you see it begin to appear in the main living spaces of your home, it is easy to miss developing mold underneath the property in a crawl space. Drying out this space, applying mold-inhibiting products, and installing encapsulating materials can prevent microbial development entirely. When combined with the continued dryness of this area, mold and mildewing of the support joists, subflooring, and interior house materials can be averted.
Better Insulation Means Savings
A direct way that proper crawl space encapsulation will save you money is by providing sufficient insulation. Without moisture and cold air able to penetrate the thick plastic sheeting covering the underside of your house, conditioned air has fewer places to escape. The more complete your insulation, the less power and resources are needed to heat and cool rooms of your home.
Is Your Crawl Space Encapsulation Sufficient?
The restoration industry is evolving to choose better materials, processes, and approaches to get the desired results you want. What might have been top encapsulation 10-15 years ago might be showing its age and insufficiencies now. Suppose water has become an issue in this opening beneath your property again, or you are contending with odors or mold on the main living floor. In that case, it might be time to consider sealing up the space a second time using modern materials and practices.
Whether you need a previously installed encapsulation redone or want an entirely new installation performed, you can rely on the experience of our AdvantaClean of York County and South Charlotte team. We can reach your home fast to begin the evaluation for protecting this space under your residence best. Give us a call at (803) 325-2100.
Repurposing a Dry Crawl Space
Another potential advantage to considering professional crawl space encapsulation is the clean space this creates for your residence. Storage can sometimes be at a premium with your large family. When this crawlspace is covered on all sides with thick plastic sheeting and kept dry with dehumidifiers or water diversion installations, this can become possible storage for seasonal items taking up too much space in the main living areas of your house.