Helping Gaffney Homes Deal with Water Damage Restoration
Kitchen Water Damage Cleanup Has its Challenges
The kitchen is one of the most active areas of your house, so when disasters involving water damage infiltrate this space, fast action is needed. AdvantaClean has experienced and knowledgeable pros ready to mobilize fast to inspect the damage, clean it up, and prepare the property for necessary repairs.


What Caused the Damage?
Water damage restoration in Gaffney homes can result from several possible issues, especially when the kitchen is where your house gets affected most. Three of the common triggers of significant water and moisture damage to your property are:
These result from human error. Letting a sink overflow or improperly using appliances like the dishwasher can result in a pressing need for water damage cleanup.
You probably do not regularly inspect your plumbing pipes for wearing, age, and other potential concerns. Leaks catch you by surprise and allow water to collect quickly on exposed flooring.
Water-fed or connected appliances like the dishwasher can also experience wear and compromise from use. Separated hoses can allow gallons of water to spread on the flooring, against wall systems, and into cabinetry.


Objectives of Mitigation Solutions
You have likely gone through the kitchen to pick up the pet's food dishes and take any low-stocked pantry items to a higher shelf to avoid getting ruined. Pros on our team are mobilizing to help your kitchen differently through water damage mitigation approaches like extraction, surface cleaning, and drying.
Are the Floors Damaged?
Surface water is a considerable first obstacle for our team. Flooring can be one of the earliest damaged materials after a disaster, so it is important to work fast on removing standing water and pooling. We have a growing inventory of leading tools to clear pooling, such as wet vacuums and pumps.
When your kitchen does not have water-resistant materials installed, cleanup can be much more challenging and time-sensitive. Water that gets underneath laminates and porous plank floors risks the subflooring OSB board or plywood becoming damaged as well. Drying gets prioritized, though AdvantaClean of York County and South Charlotte pros must also expect controlled demolition to play a part in water damage remediation.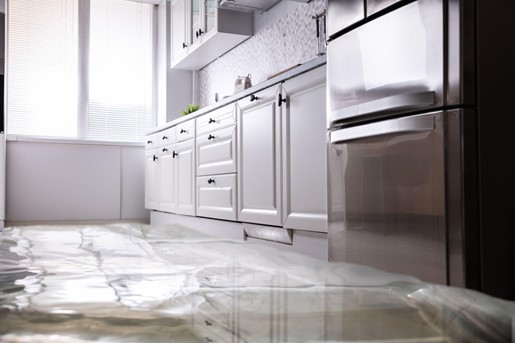 The State of the Cabinetry
Depending on the material used in the construction of your cabinets, some units can withstand moisture damage and the presence of water better than others. Mass-produced cabinets found in home improvement stores are often made with particle board and pressed wood, which makes them heavily sensitive to absorption. Wet cabinets are difficult to dry before warping and distortion of the material occur. In some cases, AdvantaClean pros might need to remove the impacted base or hanging units based on their condition upon inspection.
Preventing Mold Growth Concerns
Mold can be present in several areas of your kitchen as well. We must find where this microbial growth could find a home in a moist environment and the materials likely to provide a stable food source to allow a colony to spread. Cabinets, flooring, drywall, and other commonly installed materials in the kitchen cannot sustain long moisture exposure without becoming a likely location for mold and mildew formation. Antimicrobial products can preserve impacted materials, along with our fast focus on drying the residence.
AdvantaClean of York County and South Charlotte is a trusted team of pros to help when your kitchen suffers a spill or leak, and you need a proven water damage company. You can reach our rapid responders when you need our emergency cleanup services at (803) 325-2100.
The Pace of Water Damage Restoration
Your kitchen can rapidly be overwhelmed by pooling water or moving moisture. So, when these emergencies happen, you expect a fast response from pros like our AdvantaClean team. The trained experts of our recovery roster recognize that every minute counts, so we are ready 24/7 to begin water damage cleanup and restore your damaged property. With the high traffic you can expect in a kitchen, we prioritize rapid drying and mold prevention to get life back to normal.