Is Air Duct Cleaning Really $99?
If you've ever gotten an email or something in your mailbox at home that advertises an air duct cleaning for a price that sounds too good to be true, then you're probably wondering, "Is $99 air duct cleaning done by prefessionals?" We're going to be straight with you here: the short answer is no! The only way a company could charge you $99 for air duct cleaning and stay in business would be to pretend to clean a vent or two and call it a day. You probably already know that if you need a house-call for any professional service like a plumber or an electrician, then you're going to be paying at least $50-75 for a service call fee, if not $99. So when you see an ad that says you're going to get a full air duct cleaning for less than a Ben Franklin, don't waste your time with that company. All they're going to do is come out and tell you it's $99 plus additional fees per vent or another pricing scheme that was either in the fine print or not in the print anywhere at all!
Call AdvantaClean for Clean Air Ducts Today!
Is Your Home Making You Sick?
Create a healthy environment for your family. Request your service appointment today!
Schedule Now
or Call Now (877) 800-2382
Now that we've gotten the main question out of the way, let's answer the follow-on thought you're surely having by this point: how much does an air duct cleaning cost? Here, the straight answer is: "It depends." A wide variety of factors will influence the cost of your particular air duct cleaning, including things like:
Size of your home. Obviously, a bigger home with more rooms and longer ducts are going to take longer to clean, and that's of course going to increase your estimate.
Number of vents and registers. Same deal here: the more places your vents are pushing air into your rooms, the higher the cost.
Condition of your ductwork. If you're living in a very old home with rickety ducts, or if your ducts are excessively dirty inside, then the duct cleaning is going to take longer and that will result in a higher bill.
Accessibility and condition of your HVAC system. A part of any air duct cleaning worth paying for will be a cleaning of your air handler components themselves. For example, if your blower motor's fan blades are caked with gunk, it's going to take longer to get it clean. Furthermore, if your HVAC system is hard to reach in the first place, your air duct cleaning technician will have to spend more time squeezing into the space to get at the insides of your furnace and this is going to increase the estimate of your duct cleaning cost.
The average cost of an air duct cleaning service that's done correctly is going to be at least a few hundred dollars, and possibly even $500 or more if your home is larger or has a more complex configuration of ventilation components. We know that seems like a big price tag to pay for something that you'd probably rather not pay for at all in the first place, but think about the health benefits of removing many pounds of dust, dirt, dander, lint and other nasty debris from your indoor environment. Investing in your indoor air quality is an investment in your overall quality of life, and you could be saving a lot of money on your health bills and long-term costs by choosing to have this service performed periodically. But even if you can identify the shady $99 air duct cleaning gimmick companies, how can you find a reputable service provider?
When choosing an air duct cleaning company, here are some important things you should consider:
What kind of equipment are they using? Is it just a guy with a glorified Shop-Vac, or is it a powerful HEPA-filtered blowing and suction system that actually loosens debris in the nooks and crannies of your ductwork and then removes it safely from your indoor air?
How long have they been in business? If you're dealing with a startup, of course everyone has to start somewhere, but wouldn't it be better to invest your hard-earned money with a company that has a proven track record and solid reputation for decades?
Do they use the recommended practices laid out by the National Air Duct Cleaners Association (NADCA)? If they don't even know what NADCA is, then hang up the phone!
How well do they communicate with you? Do you have to call them multiple times just to get them out for an estimate? Do you feel like you have to beg them for your business?
What are other people in your area saying about the company? If they're getting great reviews, then they're probably worth a call. If you see too many one-star reviews, don't waste your time.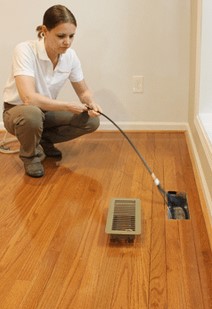 Now, since you're already here on our website, why not take a look at your locally-owned AdvantaClean service provider and see how they've been doing with your neighbors? Since 1994, AdvantaClean has been making homes across America as clean and safe as possible, and we're ready to get to work for you today. Give us a chance to earn your business and we guarantee you'll be satisfied with the fast, affordable and thorough results we provide. No gimmicks here: just hard work and a commitment to serving our neighbors with integrity, because it's not clean until it's AdvantaClean!

More info? For more information on air duct cleaning, check out: HOW DO I KNOW I NEED TO HAVE MY AIR DUCTS CLEANED?