The Joseph Family Extreme Makeover: Home Edition Segment Features AdvantaClean And Home Franchise Concepts Brands
For a second family, AdvantaClean® and sister brands, Budget Blinds®, Tailored Closet®, and Concrete Craft®, joined parent company, Home Franchise Concepts (HFC), in participation with HGTV's Extreme Makeover: Home Edition to change the world of another deserving family. The Joseph family of Carson, California, received a completely renovated home that will change their lives, enabling them to continue their outreach activities to the homeless in their community.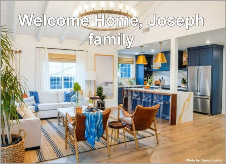 The Josephs' new home will continue to stay fresh as new with home maintenance and air duct cleaning from AdvantaClean
The transforming power ofExtreme Makeover: Home Edition
For 2020, a new version of the iconic Extreme Makeover: Home Edition TV series introduced a new host, Jesse Tyler Ferguson (Modern Family), and an innovative design team, including designers Carrie Locklyn and Breegan Jane, and carpenter Darren Keefe who each bring their own individual styles to the home renovations. Continuing the goal of extreme home makeovers for deserving families that give back to their communities in extraordinary ways, Carrie explains their design philosophy to arrive at the perfect new home: "The first thing we look at is what they need. To aid the lives of these hometown heroes and to help their families, not to mention their contribution toward their communities is our primary objective."
Deon and Tosha Joseph and their three sons, Jordan and twins Xavier and Deon Jr., are in for an unbelievable experience with a complete home makeover designed just for them
For the Joseph family, this meant complete renovation, inside and out, maximizing the existing home:
An open floor plan family room consolidated the den, kitchen, living room, and dining room.
All bedrooms were transformed with closet organization systems and updated furnishings.
Garage went from clutter and disorganization to family-friendly living space.
Outside, the home received a new color, front porch, gabled front door, stone walkway, new garage door, and a resurfaced driveway and patio.
Held together by love and duct tape
Deon and Tosha have been married for 22 years and with their three children, are involved in reaching out to the homeless people on Skid Row in Los Angeles. Deon is a police officer, known as "The Angel Cop" of Skid Row where he passes out hygiene packs that his family assembles in their garage. He hands out these packets as he encourages people with big hugs and help with everything from food and clothing to housing. Raised in a home where many children were fostered for 41 years of his parents' 47-year marriage, this giving lifestyle is deeply ingrained. At home, he's Mr. Patch-it versus Mr. Fix-it, but his duct tape and glue method of home repair for their ranch style home had finally reached crisis levels with moisture and mold causing allergies for his son, Xavier. As a thank you from the community,Extreme Makeover: Home Edition stepped in to give them the home they deserve, a modern resort-like beach house. Show host, Jesse, describes his vision for the home, "We want the house to be like the Malibu coast, but without the coastline, traffic, and celebrities."
Home Franchise Concepts' franchise brands make a difference
For AdvantaClean and its sister brands, it was exciting to be part of such a life-changing event as Home Office associates, service technicians, installers, and vendor partners contributed time, product, and expertise to help make the home amazing for this special family. Design focus was a bright and natural beach theme with coastal colors, organic materials, and natural textures because the beach is Tosha's favorite place, and Venice Beach is where she and Deon first met.
Tailored Closet's custom organization systems made every bedroom clutter-free with custom closet storage systems; and transformed the garage into a multi-functional headquarters with an organized laundry area, media and game room, and cabinet storage and workspace.
Budget Blinds dressed up the new windows and enhanced the beach theme with woven wood motorized shades and custom drapery, providing light and privacy control in every room.
Concrete Craft resurfaced the front driveway to look like new and gave the back patio the look of an old-fashioned beach boardwalk with a decorative concrete overlay and a reclaimed timber concrete stamp.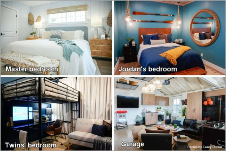 The total makeover resulted in a home that was beyond the Josephs' wildest dreams.
Move. That. Bus!
The family stayed with friends while all the work was underway and only returned when the completed house was hidden behind the Extreme Makeover: Home Edition bus, awaiting the "Move. That. Bus!" moment when the family finally sees their new home. For the Josephs, this home hit all the right spots.
"This is so perfect! It's open, inviting, and says family." –Deon
"Are you kidding me? Look at my kitchen, look at my stove!" –Tosha
"A home my wife can be proud of and safety for my kids." –Deon
"Way better than I expected! I've never had a TV in my room before. It's nice to have a more mature room." –Jordan
Jonathan Thiessen, HFC's Chief Development Officer, made a special presentation to the family when everyone was gathered in the incredible backyard: "We have a program at Home Franchise Concepts called Heart & Home and it's designed to give back to those that do great things and give back in their community. So, on behalf of HFC, we would like to give you $25,000 to continue with that."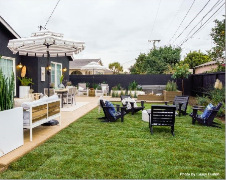 The big backyard accommodates multiple activity areas for family get-togethers and entertaining friends with a fire pit, hot tub, and boardwalk patio with a Tiki bar
There are far too many memorable moments and quotes to share them all, but here are a few highlights:
Ty Pennington, host of the original Extreme Makeover series, designed and created a custom Tiki bar countertop longboard (surfboard) for real island flair on the patio.
Greg, a neighbor and friend, brought in a group from work to assemble 200+ hygiene packs for Deon to have for his ministry to the homeless.
View more before-and-after photos of the complete Joseph's home makeover: Transforming a Basic Ranch Into a Modern Beach Dream House
Keep your home "new home" fresh
Don't worry about moisture, mold, and bacteria producing poor air quality in your home. AdvantaClean is ready to assist you with keeping your home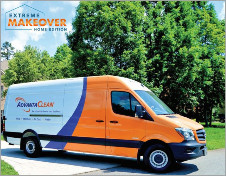 safer for your family by reducing allergens and contaminants with regularly scheduled visits. For complete peace of mind, call (877) 800-2382 today to schedule an appointment with our NADCA Certified Indoor Air Quality Professionals.
Catch new episodes of Extreme Makeover: Home Edition Sunday night at 8p|7c on HGTV as well as watch previous episodes at https://watch.hgtv.com/tv-shows/extreme-makeover-home-edition.